Member since: 05/14/07
Last active: 05/07/13
Profile updated: 02/11/13
Direct link: http://www.realjock.com/Chewey_Delt
Age: 29
First location: Washington, District Of Columbia, United States
Relationship Status: Single
Looking for: Friends, Dating or Relationship, Training Buddies
MY STATS AND INFO
Build: Average
Height: 5' 9''
Weight: 192 lbs
Waist: 33 inches
Chest: 44 inches
Arms: 15 inches
Hair color: Brown
Eye color: Hazel
Ethnicity: White
My gym: Alexandria Community Center
Weight training: 3 times per week
45 minutes per session
Cardio training: 5 times per week
80 minutes per session
Sports I like: Basketball, Cycling, Hiking, Kayaking, Rock Climbing, Running, Snowboarding, Soccer, Swimming, Tennis, Weight training
Other sports I like: Wakeboarding, Kiting, Ultimate Frisbee
HIV status: HIV -
Safer sex?: Always
ABOUT ME
In 2012 I ran my first
Tough Mudder
and had an awesome time. This year my fitness goals include continuing to get big. Biceps sitting at a healthy 15.5", but have sort of stalled there. Trying to get that up to 17" by the time I'm finished. Maybe this year I can hit it, but I'd at least like to get up to 16 and maybe 16.5. Also planning on running another Tough Mudder in November, because the first was so much fun.
2011 Update: I attempted a thru-hike of the Appalachian Trail this summer, but after walking 1000 miles and hitchhiking about 300, I decided that the trail was not for me. I had some fantastic times, though, and am currently in way, way better shape at this point because of it. Feel free to read the musings of my hiking partner and I below, at least for as much as we hiked. Now I'm back in DC, living the good life.
Away from the Clank of the World
I used to have a bunch more stuff in this section, but I've just decided to downsize a bit; it looked a bit like a myspace page up in here, with only the requisite emo picture missing.
I was a Peace Corps volunteer in Armenia for 2 years from 2008-2010--contrary to popular misconception, that's Armenia, not Albania. No, I had never heard of it before either, so don't feel bad. I spent good portions of my time there getting harassed by idiotic young men and children, drinking homemade vodka (read: moonshine), playing the banjo (learning it, actually), and trying to get projects either planned or funded.
Also, I loved it. Check out my blog if you're interested.
Peace Out: A Volunteer's Life From The Armenian Closet
Now that I'm back in the states, I've moved to DC and am looking around to continue a career in international relations, hopefully with a development or peace building NGO. I spend a lot of time reading when I can, but yet continue to be woefully out of the loop when it comes to having any understanding of the subtext in books. I blame you, 5-years-of-reading-nothing-but-nonfiction-academic-literature-in-college...you are insidious.
These slideshows are of my favorite place in Idaho, the Sawtooth Mountains (Idaho's where I'm originally from). Some of them get a bit repetitive because I was playing around with color settings on my camera, and some of them were taken for my own use to remind myself what the trail looks like for the future, but you'll enjoy them anyway. Unless, of course, you're boring, because only boring people don't want to sit around watching slideshows on the interwebs. Do you want to be boring? Yeah, I didn't think so.
First one was taken in September '07, the second one in October '07. What a difference a month makes in snow levels.
GUYS I'M LOOKING TO MEET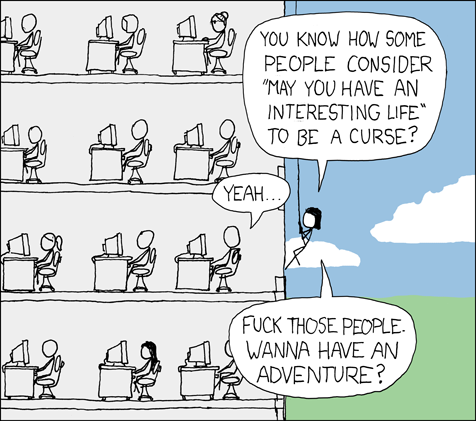 I'm not necessarily here to meet guys, but then I'm not opposed either. Someone who can help keep me devoted to going to the gym when I'm lazy would be nice. I'm a total outdoorsman, so if you are as well that's a huge plus. Not required, but a plus. The hottest thing in any man is their brain. I'm like a zombie: mmm, brains.
P.S. I promise I won't eat your brain, just pick it.
P.P.S. If you can watch MST3K with me, you get big bonus points.
You need Flash player 8+ and JavaScript enabled to view this video.
Blueberry picking on the AT
A sighting of the wild blueberry picking hiker.
Playing the banjo
Totally still in the learning process. But just you wait...those fingers will soon fly!
Bolor Qar hiking trip
I was the only one in the group who neither knew the song being sung nor understand the words. Damn...
Snowboarding in Armenia
Me, snowboarding at the Tsaghadzor mountain in Armenia
HIS MUTUAL BUDDIES
View all of his mutual buddies
HOT LIST
View all guys he thinks are hot
RECENT FORUM POSTS
TESTIMONIALS