Member since: 02/13/10
Last active: 05/23/13
Profile updated: 04/09/13
Direct link: http://www.realjock.com/dbobbyz
Age: 48
First location: Columbus, Ohio, United States
Second location: Seattle, Washington, United States
Relationship Status: Dating
Looking for: Friends, Online Chat
MY STATS AND INFO
Build: Defined
Height: 6' 1''
Weight: 185 lbs
Waist: 35 inches
Chest: 42 inches
Arms:
Hair color: Brown
Eye color: Blue
Ethnicity: White
My gym: Planet Fitness
Weight training: 2 times per week
60 minutes per session
Cardio training: 3 times per week
30 minutes per session
Sports I like: Baseball, Cycling, Golf, Running, Skiing, Tennis, Volleyball
Other sports I like:
HIV status: HIV -
Safer sex?: Always
ABOUT ME
Hey guys!
I'm your average masculine Italian/German Joe.
passionate
masculine
honest
sincere
spontaneous
loyal
(anyone care to guess my birth sign? ;-))
I'm a huge fan of the outdoors! I'm a plantsman by passion and trade. Summers are spent outside.
I try and stay fit by running and cycling. Recreations you'll find me hiking or camping somewhere.
Always trying to improve my physical fitness by living a healthy lifestyle. Welcome any pointers and tips.
Not into the main stream gay scene. Rather you'll find me entertaining friends and socializing in house. I'm a big fan of Italian food and wines.
So I felt like taking this random test to see how smart I was.... I know, I was bored, and turns out I didn't do too badly.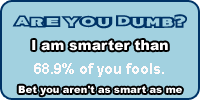 Am-I-Dumb.com -
The Dumb Test
Thanks for reading guys!
Cheer's!
GUYS I'M LOOKING TO MEET
Looking to meet other handsome masculine guys. Attracted to guys with lean bodies and witty personalities-!!

I'm very good at conversation, so if you're willing to make the move to write, expect a response of some sort from me. I was raised to respect.

Not expecting much other then communication. If you're in the area and all goes well, I'm very comfortable meeting and continuing the conversation.

I'm more attracted to personalities then any particular body type. We all have certain looks that we are attracted to, but for me they are varied and are in phases. Just be nice and sociable !
I'm asking for honesty from you as I will give you the same in return.

Again, thanks for reading guys!







This member currently has no videos.
HIS MUTUAL BUDDIES
View all of his mutual buddies
HOT LIST
View all guys he thinks are hot
RECENT FORUM POSTS
TESTIMONIALS