NEW YORK (CNNMoney.com) -- Ever wonder what happened to your high school valedictorian? He or she might just have wound up in Washington, D.C. That metro area has the nation's highest percentage of residents with college degrees.
http://money.cnn.com/2010/10/01/pf/college/Americas_brainiest_cities/index.htm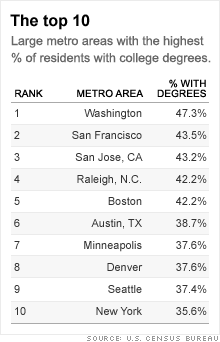 I have friends that moved to DC for work. They all hate it there but had to do it because of their federal government job. Given that, I say SF should be at the top since most are not forced. Fuck DC. The Bay Area pwned this poll.