Oct 05, 2010 10:23 PM GMT
Firefighters Watch As Home Burns: Gene Cranick's House Destroyed In Tennessee Over $75 Fee


The Huffington Post | Adam J. Rose First Posted: 10- 5-10 12:12 AM
Cranick lives outside of the city limits and he admits that he forgot to pay a $75 annual service fee that would have provided him with fire protection. Firefighters wouldn't lift a finger, much less the hoses that might have saved the house.
Cranick says he offered to pay whatever it would take. The plea fell on deaf ears. Hours later, the home was gone.

So were three dogs and a cat.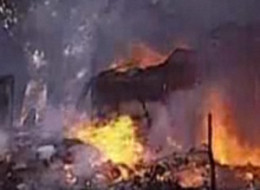 Therein lies the republicanization of one lifesaving service
Next time a burglar is robbing your sh*t? Make sure you paid THE FEE
What a freakin' joke