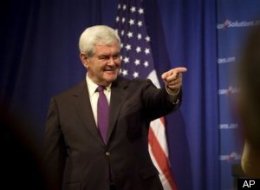 Former U.S. House Speaker Newt Gingrich has told insiders that he plans to run for president in 2012, with Georgia as his base, the Atlanta Journal-Constitution reports.
According to the report, Gingrich has reached out to several prominent Republicans in his former home state in the last 24 hours, stating he intends on a 2012 presidential run.
However, a spokesman for Gingrich, Rick Tyler, denies that the former House Speaker has made a decision on 2012. Tyler states: "His plans are to decide on whether to create an exploratory committee in late February, and make a decision about his candidacy in March."
Gingrich, 67, is registered to vote in Virginia but has spent most of his adult life in Georgia and served as a congressman in Atlanta from 1979 to 1999. He toyed with the idea of a 2008 presidential bid before ultimately deciding against it.
Gingrich recently called President Obama's staff a "third term of the Clintons."