from huffington Post: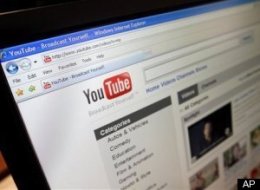 http://www.huffingtonpost.com/2011/01/25/compassionate-internet-st_n_813709.html
For the second time in two weeks, Internet users have blown the whistle on apparent suicide threats posted by total strangers in unemployment forums online.
Kim Doyle Wille of El Jebel, Colo. told HuffPost she called her local sheriff after she saw despondent posts from a YouTube user called "PeterinFremont" underneath a video dedicated to "99ers" -- people who have exhausted 99 weeks of unemployment benefits and still haven't found work.
"I called my own local sheriff because I knew that would be a better place to start," said Wille, 54. (She said Peter is not the man's real name.) A sheriff's deputy, with an assist from the Denver office of the FBI, traced the comments to an address in Fremont, Calif.
A spokesman for the Fremont Police Department told HuffPost that a hostage negotiator talked the man out of his house and that an ambulance took the man to a hospital early Friday morning.
"They probably saved the life of someone they didn't even know or may never meet," Eagle County Sheriff's Office spokeswoman Shannon Cordingly told the Denver Post.
A similar scene unfolded last week when police visited Bud Meyers of Las Vegas, Nev. after a Facebook friend of Meyers' was apparently alarmed by something he had written online. In that case, however, Meyers said he told the police his friend had the wrong idea, and he was not taken to a hospital.
John Draper, director of the National Suicide Prevention Lifeline, said social-networking sites get too much media attention for things like cyberbullying, and not enough attention for the benefits of online interaction.
"It sure makes social networking look like the bad guy when in fact it's really a place where people support and help each other as well," Draper said. "It's really one of the greatest suicide prevention approaches -- feeling connected with other people."
Draper said the lifeline started paying attention to social networking sites in 2007 when they noticed a ton of traffic from MySpace. The lifeline has since launched its own pages on MySpace, Facebook, and YouTube.
As the result of a collaboration with the National Suicide Prevention Lifeline, Google posts the lifeline's toll-free number (800-273-TALK) above search results for terms like "suicide," "commit suicide" or "kill myself."
Wille, for her part, said she's been without a viable source of income for nearly three years. She said she volunteers at food banks and has been surprised to see so many well-dressed, formerly middle-class people there lately. She spends a decent amount of time online trying to draw attention to the plight of the long-term unemployed. She doesn't know the man in Fremont, but she said she's familiar with the problem of suicide.
"I've lost five friends of my own to suicide in the last 16 months," she said, adding that lots of Twitter users who used to post about unemployment have become inactive. "It's escalating right now."
Many posters in online forums speculate that the unemployment crisis is driving a surge in suicides, but the federal government's suicide data lags by a couple years. The rate in 2008 increased 2.7 percent to 11.6 per 100,000 deaths from 11.3 the previous year, according to a preliminary estimate from the Centers for Disease Control's National Center for Health Statistics. (Preliminary data for suicides are often underestimated because of pending investigations, however; preliminaries were revised upward by 2.7 percent in 2005, 3.4 percent in 2006 and 4.1 percent in 2007). Experts say 90 percent of the people who commit suicide suffer from a psychiatric disorder.
Wille said the man in Fremont was supposed to be released from the hospital on Monday and that she has not heard from him. He was apparently moved by other commenters who wanted to help him.
"It NEVER ceases to amaze me the kindness of strangers and willingness to step up to help others," he wrote, apparently before police arrived. "There are many out there whom perished everyday without being noticed, I am not worthy of your concerns or your out pouring of support but I do appreciates it. My reply was not an cry for help, it isn't what I wanted or needed but never the less, THANK YOU all..."