Got back this afternoon (reluctantly), bringing the SMART Ride bike with us. Here are a few pics as mch requested, more to follow.
The main purpose of our KW trip was to attend an auction Saturday to raise money for the artists of The Studios of Key West (TSKW). A different artist had been commissioned to paint each of 43 bicycles in an original theme, to be either sold over several months, or else auctioned or raffled at the fundraiser we attended. Only 15 bikes remained unsold for auction.
I had bought one in November, a bike commemorating the SMART Ride for HIV/AIDS that we had just completed in Key West. TSKW asked me if they could keep it for display purposes until this auction, and I agreed. It was shown with some of the other bikes at the TSKW exhibit hall where the auction was held.
I believe it fetched the highest price of any bike, the deal being that half the money would go to TSKW, and half to any organization I designated. I specified a division among the HIV/AIDS agencies that my partner & I support.
The bike will continue to be used as a fundraising device, as I had intended, already scheduled to appear at several of our local HIV events in the months ahead. And an HIV/AIDS agency in Orlando has asked me to borrow the bike for a fundraiser they're having in July, which I plan to do.
Some of the bikes hanging from the ceiling for the auction, a band performing:
The bike I bought, hanging to the left. The art work isn't visible from this distance, especially on the fenders, but it's HIV-related: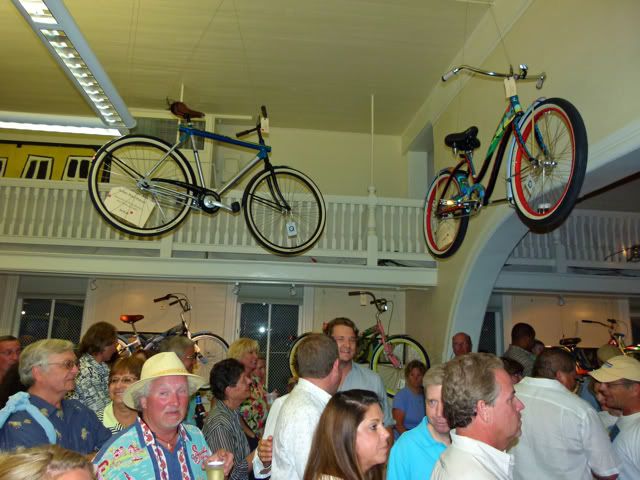 A portion of the display describing the bikes that had been created:
A close-up of the display showing my bike, at the time I presented the check for it in November in KW. That's a panel from the National AIDS Quilt behind us. The guy on the far left in the striped shirt is the owner of Graffiti menswear where this was taken, the one who actually commissioned this bike to be painted with a SMART Ride - HIV/AIDS theme: