The former "Saturday Night Live" star, Victoria Jackson now an outspoken political conservative
had a Christian Hissy-fit over Glee's Gay kiss the other night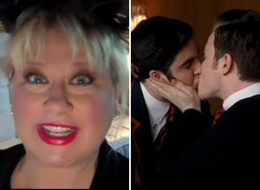 Jackson wrote in her cloumn:
(This thing has a "column'?)
Did you see "Glee" this week? Sickening! And, besides shoving the gay thing down our throats, they made a mockery of Christians – again! I wonder what their agenda is? Hey, producers of "Glee" – what's your agenda? One-way tolerance?
http://www.huffingtonpost.com/2011/03/20/victoria-jackson-on-glee-_n_838071.html?ref=fb&src=sp#sb=485940,b=facebook