My partner went to Home Depot a few weeks ago, to buy more plants from their garden section. We know a woman there (Angela) who seems knowledgeable about plants.
And he told her he wanted some flowers to hang off our patio that would attract butterflies. She suggested some that we bought. And indeed, the butterflies came, which delighted my partner.
But yesterday I walked out onto the patio, and noticed that one of the hanging plants had been stripped bare of leaves. I called to him in a panic to come see. What had happened?
I think the butterflies laid eggs, he said, and now the hatched caterpillars are eating the leaves. Angela said this would happen, but the leaves will grow back. So we started looking for caterpillars, and sure enough, we found a few, munching away.
And as we watched, some went down to the pot edge, their eating cycle complete, to hang down away from the sun. This morning 3 of them are chrysalis, while a 4th is about to enter that stage. I'll keep watch, and hope to get pics as the butterflies emerge.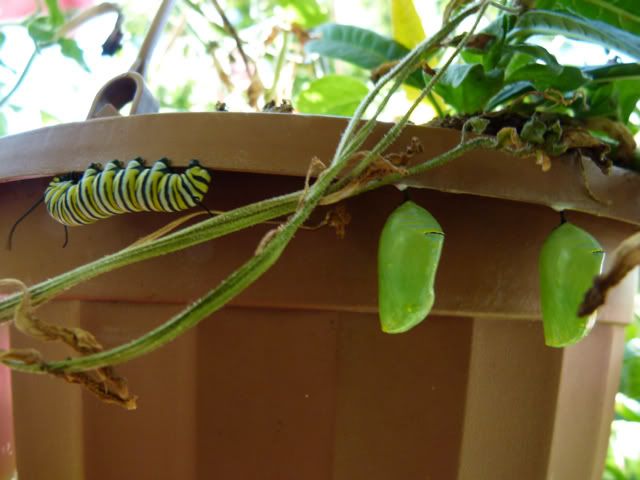 mg]g