Hey guys,
Hopefully my earlier antics in the mental health board didn't turn a lot of you off to me. I was going through a rough time there and fully admit to the mistake of posting that topic in the first place.
So, without further ado...
Over the past few months, I've managed to gain around 20/25 pounds of weight. Friends seem to believe that it was due to the fact that I was binge/nerve eating before and while I was in Idaho. I tend to believe them on that. So, last time I stepped on the scale and saw that I weighed somewhere around 180 pounds, I started to freak out, as only this past December I weighed somewhere around 155/160. For that reason alone, I've decided to instate hardcore dieting and workout mode.
So, to give you all some basics:
- I am
19 years old.
- I weigh
somewhere around 180 pounds.
- I am
5'6" tall.
- Most of my primary hobby (writing) involves
sitting at a desk for extended period of time.
- I am
currently unemployed
(likely due to the fact that I have a GED) and am
preparing to start college this fall.
As of right now, I've decided (based on a friend's suggestion) to go with Creatin (sp?) protein mix for shakes. Also on his suggestion I have purchased Special K cereal. My plan (as of now) is to start drinking one/two of these shakes a day (preferably in the morning and after working out.) I plan on working out at the community center (which, as of now, has very little actual workout supplies other than dumbells/a treadclimber and an exercise bike) and trying to take up jogging.
Here are my basic starting images.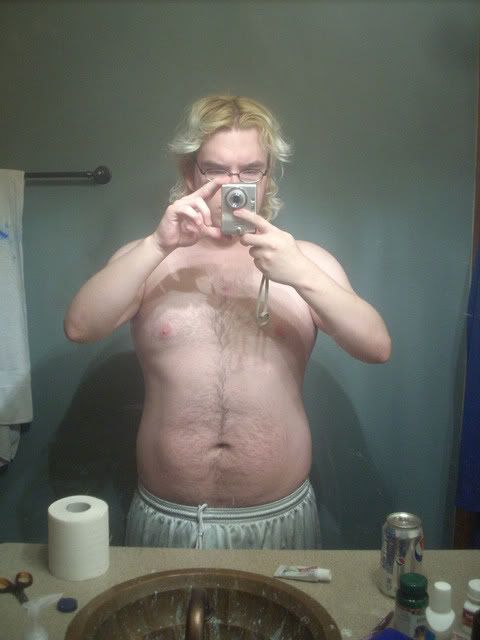 Basically, I'm looking for any and all help/input on what I can/should do in regards to my eating/workout plan, though I have to say before this thread continues any further that I can't seem to eat chicken and/or fish due to some weird texture issue (I get horribly sick when I eat either of them.) The two have been recommended to me and I can't seem to work with either of them.
Anyhow, I'll be starting tomorrow. Already started today somewhat. Ran a mile, nearly threw up, did a few jumping jacks, drank a shake, ate some cereal, etc. My tentative plan is to keep myself on track by posting what I'm eating in this thread and the like, so hopefully it won't become too spam-worthy.
(Also, I hope this is in the right spot.)
Thanks!
- K