http://stansdad.com/
Along with "Little Britain", I think that "South Park" is best TV show ever. Anyone beg to differ?
Btw, it's hard to say which one is my favorite character, but I'll narrow it down to three
1. Randy Marsh (idiot)
2. Eric Cartman (evil)
3. Mr./Miss. Garison (confusion)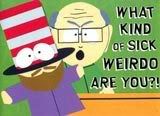 How about you?