As some of you know, in less than three weeks I will start walking from my home in New York City, to the shore of the Pacific in Los Angeles. I expect to get there in January or February.
I thought I'd share the map of my walk with you guys. Wish me luck!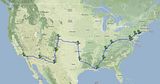 Please check out my website for more info, and feel free to share it with friends:
http://www.newamericanwalk.com
.