1) Someone posts something. It could actually be quite mundane (such as this very post) Or it could be rather outrageous.
2) Someone reacts to the OP for some reason, and posts an outrageous reply. If
Chainers
or
JakeBenson
have arrived in the thread at this point, count on many LULZ and no small amount of people being told to go die in a fire, and a YouTube remix of those fiery deaths to the latest Lady Gaga tune.
3) OP or OP's self-appointed defenders post something even more outrageous.
3a)
Cash
makes a sarcastic comment that points out the silliness of some other guy who made an outrageous remark, and somehow manages to bring a brief zen-like moment of enlightenment to most folks reading the thread at that moment in time.
3b)
Paulflexes
gropes a sexy pizza delivery guy's arms somewhere in a dark dungeon and enjoys that pizza delivery man's.... delivery.
OF course by that, I mean... the pizza.
4) Post wars continue for about 10-15 pages...
5) Someone gets ban-hammered (an extreme rarity on the RJ forums, which makes it all the more impressive) ... this may spawn child threads that have a chance to persist for a while.
6) People lose interest, and thread goes dormant. Many may hear the lamentations of the thread's Drama Llamas if they listen carefully...
7) Someone plays the Thread Necromancy card and revives the DRAMUH.....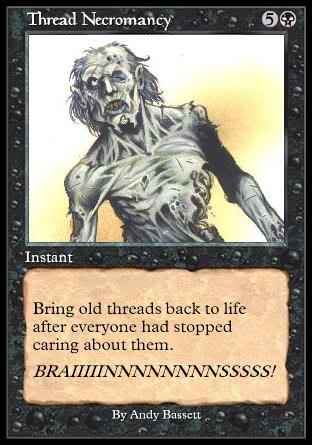 8 ) Someone drops in a totally frickin' irrelevant thing like an ancient 4chan meme, or worse, something from the depths of /b/... such as a picture of the most saggiest set of meatflaps to ever grace the pages of HUSTLER magazine, or some other shocking thing that totally sends the thread into oblivion. I mean, we could be looking at a goatse-level thread rape that finally sends it off.