First of all, let me explain some of the terms I might use to describe some of the things in this post.
Dad
= the literal sense. A heterosexual father who has no idea what to wear because he doesn't have "time" to dress well.
Not cute
= not the literal sense. This is just a sassy way of saying "unattractive".
DOs
Be aware of your body type. If you have a rounder body shape, you want to avoid horizontal stripes, as they will usually just make you look bigger. Vertical stripes will work well since they give a slimming effect. Keep the v-neck option in mind, as these will make your neck look longer instead of cutting you off.
If you have broad shoulders and a smaller waist (muscular guys may have this build) be sure to get any professional business attire tailored to your body.
This being said, make sure what you're wearing fits properly! I know most middle-aged guys won't be caught dead wearing anything tight, but don't wear anything too loose either, or it will make you look bigger (fatter, to be blunt) than you are.
One tip I know off-by-heart is to make sure the seams of a sweater line up with the corner of your shoulder. If they're too low, it's too big. I'll expand more on this when I get my video blog started.
For shirts it's super easy to find tons of info online if you search "shirt fitting".
Try different collars. Crew neck and V-neck aren't the only options, and different styles of collars (shawl collar or stand-up collar) often look more handsome and refined.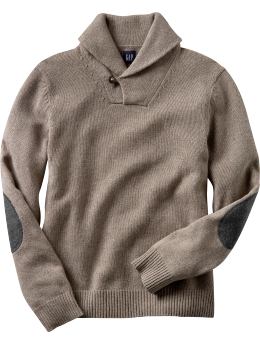 (ignore the hot mess of an asian in the pic above, i couldn't find a better pic to reference the collar)
Don't dismiss the cardigan! A cardigan isn't just for granddads! If you try different styles (zip-up, double-breasted, shawl collar) you might find that you look quite dashing in them.
K.I.S.S. Keep it simple, stud! If all else fails, stick to basics.
Get yourself a pair of signature boots. Avoid boots that look like their sole purpose is for climbing mountains. If you go hiking a lot, you should have a seperate pair of boots just for that. This way, your going-out boots won't get ridiculously dirty and your hiking boots will last you that much longer.
DON'Ts
Fleece. This is a total dad fabric and is not cute. Oversized cotton hoodies. You are not a clueless teenager any more, and hopefully not white trash, and thus you should not dress like it.
Dad colours! These are basically colours with all the goodness that makes colours wonderful sucked out of them. These colours are often found in suburban home decor.
Holiday-themed apparel... unless it's a Halloween costume.
Added tips:
FivealiveWell as the general notions goes.. If you're already on the heavy set of build avoid chunky cable net sweaters. Those are usually meant for more slim set build guys than a person with a heavier set body. However even slim set guys will look awkward if the sweater style isn't cut on the bias or knitted on a bias.

Here are are no nos

This guy judging by the face has slimmer body but the fit is awful!!


Another no no..This looks like its been taken out of the late eighties early nineties... No with and the crew neck is terrible



Below is a yes version..The V neck and fit is slimmer...Even the cable knit pattern is proportionally smaller....



Another cable knit in a button neck style



Remember any cable pattern which more than three fingers thick must be avoided.
Any thicker will just make you look bad. Leave the oversized look for the women.
Misc. inspiration reference photos: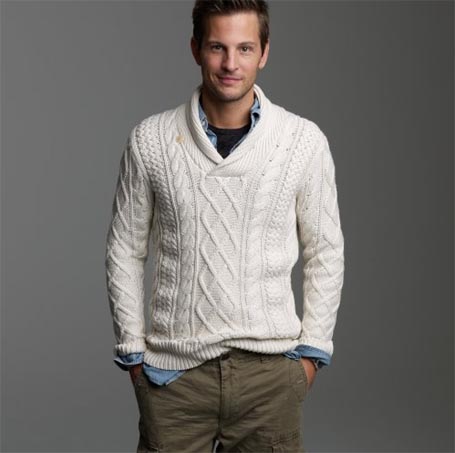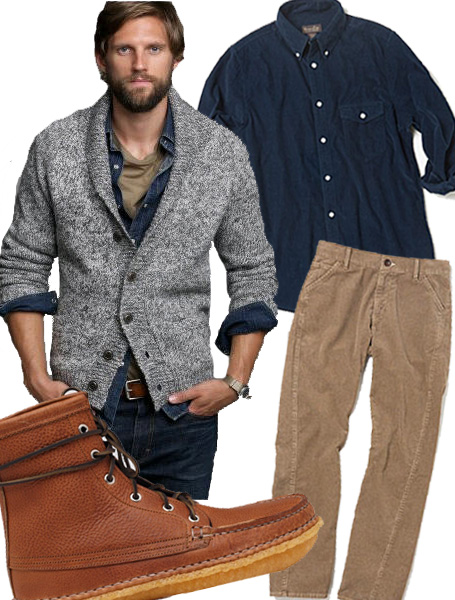 (ignore the bottom half on the right)
(ignore the queen on the left)