Sep 18, 2011 10:49 PM GMT
Got back from Key West this afternoon (Sunday) after one of our shortest trips there ever. I knew a few days before that it was the weekend of a big motorcycle rally, no doubt why we got an e-mail at the last minute offering us a great rate, which usually happens when our favorite hotel has unsold rooms as a weekend approaches during the off-seaon. I guess not many guys wanna be around all those bikers and their noisy cycles, but I loved it.
In the spirit of "it didn't happen without pics" here are some shots featuring the bikes.
Here's the veranda overlooking Duval Street where we stayed, our room always the duplex # 24 on the far end, by the giant red high heel shoe.
Here's the view from the veranda, looking up Duval. The next several blocks were totally blocked to all but bikes, which could park on both side of the street at that point.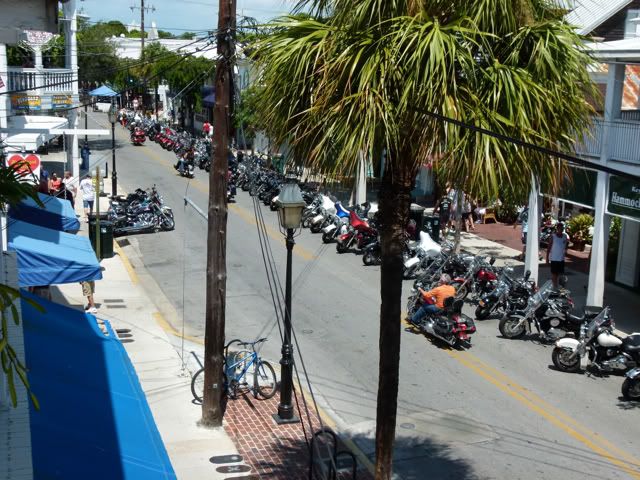 The veranda view in the opposite direction.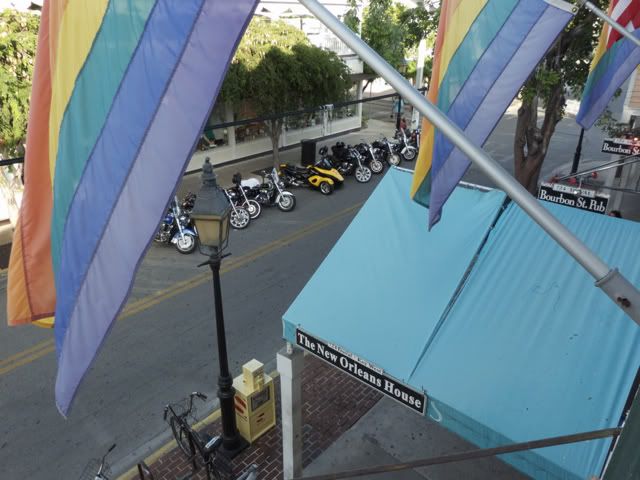 Street-level view from our hotel entrance.
Another street-level from across our hotel, with our friend Phil's men's store "graffiti" shown. These bikes stretched as far as the tall hotel you see in the distance, the no-parking rules for Duval suspended for the rally.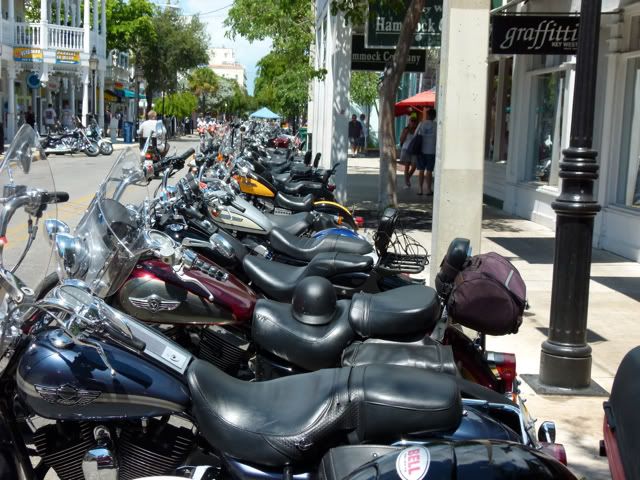 Meanwhile, out the rear entrance to our room and down those wooden steps, hot views like this threatened our cool composure while having drinks in the shade of the tiki bar (my partner's hands, not his bare ass).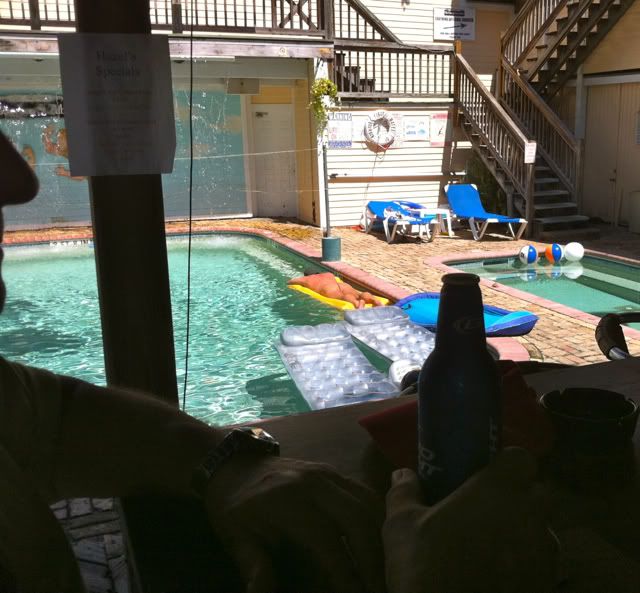 A gif slide show by New Orleans House itself. You'll see in order:

- the front of the hotel on Duval with the second-floor veranda
- the veranda
- the clothing-optional pool, hot tub & tiki (garden) bar from the second-floor sun deck
- the pool in use (suits on for this shot)
- the clothing-optional second-floor sun deck as we see it exiting our room's back door
Typical "Key West Ramshackle" as I call it, certainly not luxury in the grand sense, but we love it, the kind of local Key West flavor you won't get in a formulaic, sterile modern hotel. And for the special rate of $99 USD a night, with free breakfast and unlimited happy hour drinks, and complimentary gated off-street parking, we couldn't resist.