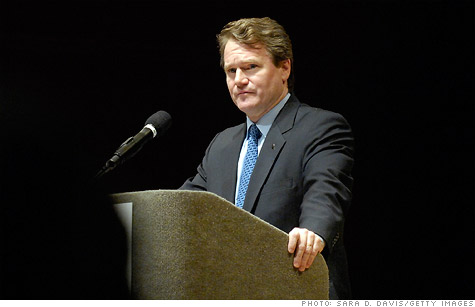 http://money.cnn.com/2011/10/05/news/economy/bank_of_america_moynihan/index.htm?hpt=hp_t2
I have to agree with them, they do have a right to make a profit. In fact they have an obligation to their shareholders to make a profit. What they don't have a right to is to add fees to make said profit without any repercussions from their customer base or without a consumer backlash for doing so.
If people are sick of being nickel and dimed to death by a company then they should use one of their other options available to them. If someone doesn't like the BofA $5 a month (for now) fee then they can move to a bank that doesn't charge the fee or they can become a member of a credit union. You may not get a fancy phone app that makes it convenient, but if that's worth an additional $5 (for now) fee a month then stay with BofA. My credit union does have one so I have never seen a point to move to a nationwide bank.
You may not want to invest the time and effort to switch over your automatic deposits and bill pays, but you have to figure if that is worth $5 a month (for now) to you. My checking account doesn't cost me a single penny, in fact I get dividends on it. My ATM fees are free if I stick to a supported ATM which there are several here in Houston (and there is an app for that too). I can make deposits at other credit unions free of charge (with a one day delay of funds, no big deal). My credit union also offers amazing online banking and budgeting tools as well as free investing seminars and other financial planning services.
I completely support people being up in arms about these charges and not wanting to take the brunt of them. I support people leaving Netflix/Quikster or whatever they are going to call themselves because their rate jumped from $9, to $11, now to $16 a month in a matter of a year. I support people who want to leave Comcast (now Xfinity) because their service levels suck.
Yes, a company has a right and even a duty to be profitable but it doesn't come at a cost of consumers losing their ability to take their money elsewhere and to encourage others to do so as well. If you are a BofA customer and this $5 (for now) fee is bugging you then move. If you are another bank customer and you are afraid of new fees heading your way then write the company now and tell them you intend to leave if they implement these fees. If they do implement these fees then stick to your guns and move or just pay them and get ready for more.
Now I'll get off my soapbox and leave you with this: