Completed my daily radiation treatments for prostate cancer this morning, exactly as planned. I didn't miss a session, 5 days a week, despite serious flooding we had here this past Monday. That was an experience, at one point our car started to literally float away!
Next step is a prostate measurement next Monday (for which I have to do a self-administered enema just before -- UGH!!!). Then I leave for the SMART Ride charity bicycle ride down to Key West a week later, around which I scheduled these treatments. We get back the day before Thanksgiving, that whole weekend booked, and then the first Monday after, Nov 28, I have out-patient surgery where they'll implant about 100 radioactive seeds (roughly the size of grains of rice) into my prostate. And then I'm done, other than returns to monitor my progress.
This morning a friend was driving me there for my last 7 AM treatment. (We're so lucky we have friends who have been taking me there on some days, to give my partner a break, since I don't drive now) And she said to me:
"Today is your graduation! Maybe they'll give you a cap & gown!"
And we both played on that analogy for laughs, me saying: "Maybe my picture will appear in the yearbook, voted 'Least likely to have a relapse.'" Nobody does black humor like the elderly, trust me.
So I finished my session (actually wishing it could last longer, a great Rod Stewart concert on the ceiling monitor above me), and the Chief Radiology Specialist approached me.
"Here's your graduation certificate," he said to me, presenting the document shown below. Our little joke about graduating had become reality! LOL!
So here it is, my last name edited out for privacy reasons here. And showing water stains from my friend's car as I carelessly got in.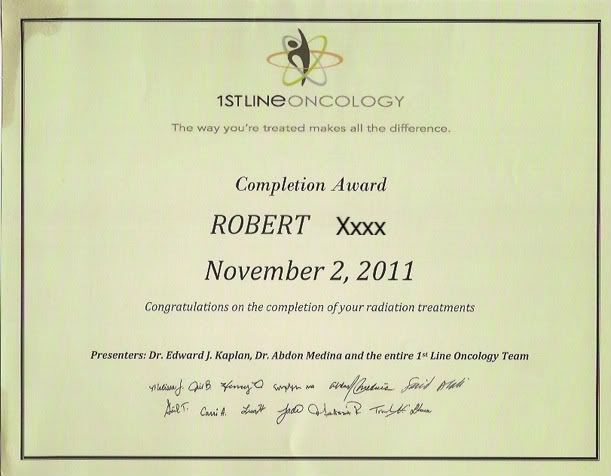 http://www.1stlineoncology.com/practice.php