Nov 11, 2011 12:05 AM GMT
The annual 2-day SMART Ride is in 1 week. My partner, a Ride co-founder, and I leave on Monday, Nov 14 to do the 4-day logistics prep, staying at a former convent (talk about bleak accommodations!).
Then we run registration for over 400 riders on Nov 17. On the 18th I get on a bike myself, while he does Crew over the next 2 days on the road. Then we chill in Key West until the 22nd, a total of 9 days we'll be away from home. Pics to follow as usual.
We've raised millions of dollars for HIV/AIDS nonprofit agencies in Florida over the previous 7 rides. And as a rider I'm raising my minimum of $1250 (and then some), in person & online.
But not from RJ members, though I have in the past with Chris' permission for this charity. The reason I couldn't make the attempt this time is obvious to most, if you've followed the intense personal attacks I've suffered here regarding my charitable work. Too bad the right-wingers want to deny that money for HIV/AIDS in order to hurt me.
Despite them I've raised the money anyway, and will be riding again this year, taking a break in my ongoing cancer treatment to do so. This could well be my last year in the saddle, and I'd have liked for my RJ brothers to have participated in some way.
Please wish us both luck (my partner's 77 and he's still running Crew, putting in 14-hour days!). I'll once again be riding with my blue handicapped parking permit on my handlebars, as an inspiration to others, and with my special rider number 62 to mark my age. Keep us in your thoughts. Bob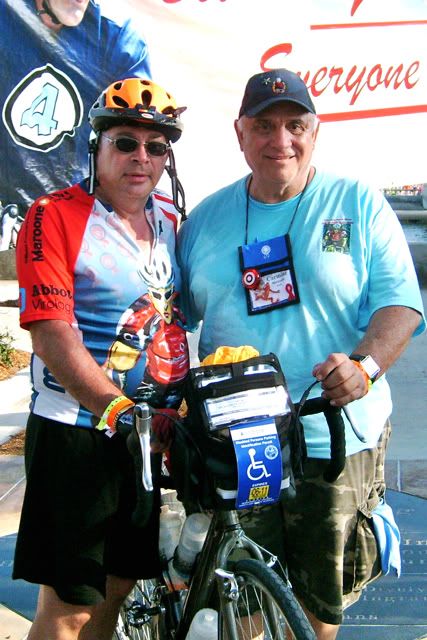 http://thesmartride.org/