Nov 27, 2011 11:22 PM GMT
So, after a few months of living in a gay ghetto and being surrounded by gorgeously muscular men, I finally bit the bullet and signed up for a gym membership. I'm 24 years old, I've always been very skinny (6ft0 or 6ft1, ~155lb) and I've more or less never lifted weights before. Everyone has to start somewhere, right?
What I have done, however, is read for months on various websites and online forums that the best way to, well, start building strength is via the program outline by Mark Ripptoe's Starting Strength book (or similar programs). I decided, in particular, to go with
this
program (Stronglifts 5x5) instead of Mark Ripptoe (basically because of my mostly uninformed idea that a power clean would be potentially more dangerous than a barbell row; aside from this variation, they're basically the exact same thing).
The gym I signed up with gives one free session with a trainer, and I wanted him to show me the proper form of each of the five exercises in the program. It turns out, though, that while these Starting Strength programs may call themselves beginner or novice programs, they're not REALLY, not for people like me -- you likely have to have at least a little base of muscle. The trainer in particular had me doing 15 squats with a 45lb bar, and I couldn't. (I realize in retrospect that 15 squats in a set is considerably harder than 5 reps, but after the Stronglifts' couple of sets of 5, much less five sets of 5, I would be dead.)
In the end, I went down to a 30lb bar and did 15 squats (well, squats plus raising the bar above my ahead in one movement -- not sure what you'd call that -- overhead press?), then 15 slow pushups (after the overhead press, that was brutal, and I though I could do 15 pushups for sure), then 15 bodyweight chinups on a bench press bar (I'm not sure what you'd call that, but not a regular chipup on a bar over your head, but lying horizontal on the ground and the pulling up), then 15 burpees. Then I did another round of about 10-12 reps, and I was BEAT. (In addition, my squats in this round, and probably the earlier ones, were of such horrible form that they probably don't count.)
Not just physically beat, though certainly that (I basically couldn't walk down the steps because of my legs), but a bit mentally beat as well (all those muscular guys in the free weight room... and me). Here are two pics of me from right after working out... it's all blurry because I literally couldn't hold the phone steady, my arm was so tired.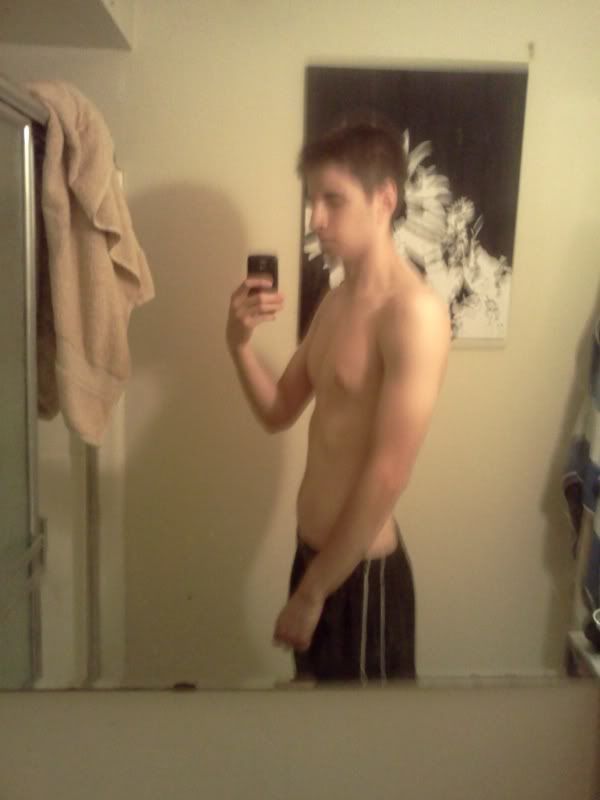 What is my main goal? I guess to gain muscle mass -- except at this point, after today's failure, I basically want to just get the very simple base of fitness which would allow me to do an actual weightlifting program. Why am I working out? I'd say 75% vanity (I want to look good naked), 15% health (never having worked out is not going to be good as I get older), 10% discipline (as a self-improvement thing -- I think just putting your mind to doing something difficult and then DOING IT is good for the soul -- builds not just muscle but character... yes, I'm that pretentious).
What do I want from here? Mainly, I'm planning on using this thread as a workout journal (if that's okay?). Doubt anyone has read down this far, but if you have, my other question is about what exercises I should do, now that Stronglights 5x5 is basically not happening. Does the following sequence make sense?
Squat + Overhead press (if there's a name for this, let me know)
Push ups
Pull ups on the bench press bar (same here)
Jumping jacks
Burpees
If so, how many sets of how many reps should I be doing?
Any advice would be very much appreciated!