Mar 10, 2012 10:55 PM GMT
So one of the loves of my life, my my 3 year old female Shitzu "Muffin" has not been feeling well lately and I have had her to the Vet several times to try and figure out the problem. The Vet called me on Wednesday and, due to results of some tests they had made, asked me to bring Muffin in on Thursday morning for an Ultra-sound, to which I agreed to do. Here's Muffin...
Cut to: Wednesday afternoon. I get a call out of the blue from a man I had met at one of my Open Houses the prior weekend. We had gotten into a discussion about dogs and I mentioned that I had two Shitzus. He was calling because he knew I had Shitzu's, and that he had just learned that his girlfriends awful neighbor had a 10 month old Shitzu named "Romeo" that they had been trying to get rid of. They told the girlfriend that they were just going to throw it out on the street if someone didn't take it. WTF?!? I was aghast. He emailed me this picture of the poor unwanted pup named "Romeo"...
I immediately got in touch with the girlfriend and asked if she would take the dog from these awful people, and meet me at my Vets the next morning where I had to take Muffin for her Ultra-sound. The girl agreed. I assured her that, while I couldn't keep the dog because I already had two and live in a condo, that I would get the dog a bath and a haircut at the in-house groomer I use at my vets, and that I would make sure the dog had a check-up, and get all of its shots, so that at least it would be ready to give to a responsible new home. I arrived the next morning at the Vet with Muffin, and met the girl who handed over Romeo. I left both dogs that day at the Vet, and went off to work. A few hours later, the groomer sent me a text picture of Romeo after he had had what she thought was probably the first bath he had ever had. The look on Romeo's face says it all....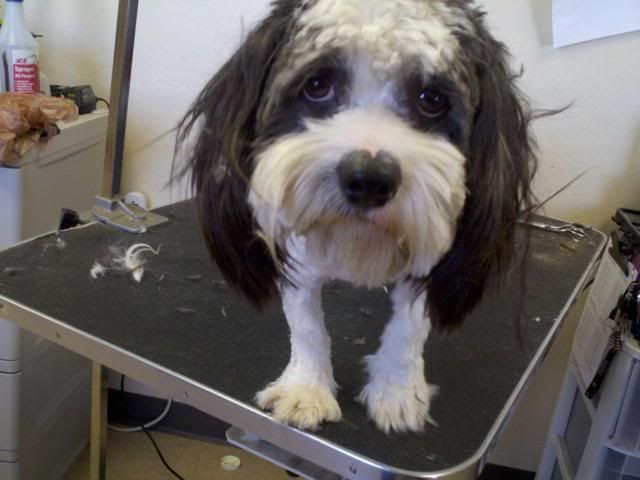 I began to understand why this dog's name is Romeo...I was starting to fall in love already.
Later in the afternoon, I got the horrible news from the Vet that what they had feared was true, and that at 3 years old my little Muffin has Lymphoma, and a huge mass is wrapped around her colon. There is nothing they can do for her, and they recommended euthanizing as soon as her quality of life begins to deteriorate -- which they said would be very soon. Thankfully, while she isn't as peppy as she usually is, she doesn't seem to be in pain, so I decided that I would bring Muffin home when I picked up Romeo, and that as long as Muffin was seeming to be out of pain and not in any discomfort, I would wait. So, I picked both dogs up and brought them home. As I am making dinner, thinking about all of this sudden bad news of the day, I look up and see this...Romeo, seemingly smiling at me from over the top of the couch, and looking rather dapper and adorable after his "Spa Day" makeover...
It was only then that I realized that fate happens in the strangest of ways and sometimes exactly at the time you need it to. Normally, I would have never agreed to rescue a dog because I have my hands full with two already, but for some reason I didn't hesitate when it came to stepping up to help Romeo. He came into my life on the very day that I had learned Muffin would soon leave it.
My friend Kathy and I spend the rest of the evening marveling at this adorable little creature, dumbfounded at how anyone could have abused this poor lovable thing and not want him --- and worse be willing to just send it out in the street...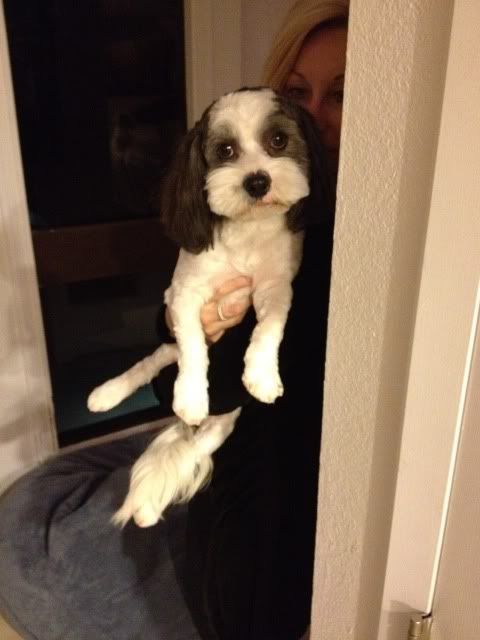 The only problem all night long was that Romeo was all about being in Muffin's business. This dog was bound and determined to mount poor little Muffin before the night was over, and Muffin wasn't having a bit of it....
It became clear that the first thing I had to do is get Romeo neutered. Here is Romeo after I told him the news that we were headed back to the Vet for a little "procedure"...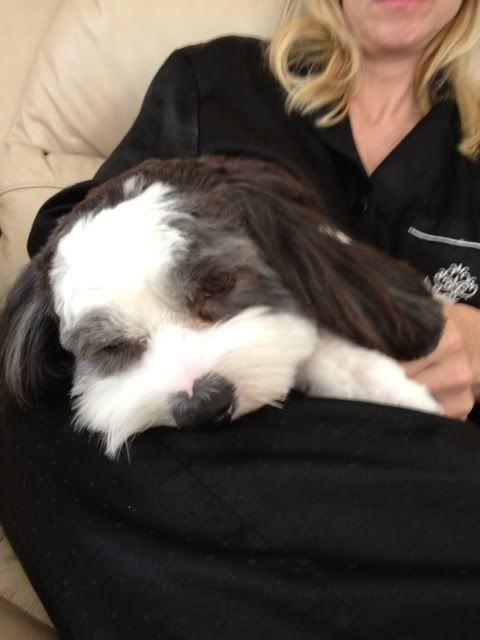 So, I don't know how long I will have them all, but at the moment I officially have 3 dogs