http://www.reghardware.com/2012/05/28/volvo_tests_project_sartre_on_public_roads/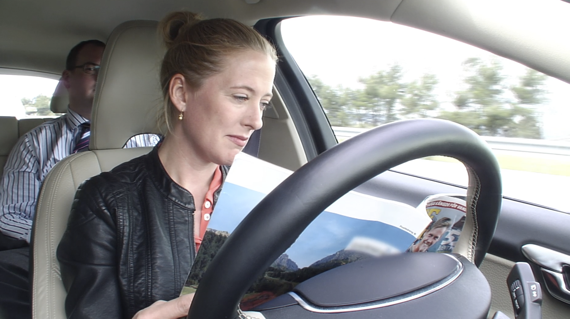 Three cars have successfully driven themselves by automatically following a lorry for 125 miles on a public motorway in the presence of other, normal road users.

The real-world trial, conducted in Spain by Volvo and car automation specialist Ricardo, put technology created for Project Sartre (Safe Road Trains for the Environment) to the test to determine if it can indeed allow the cars to be guided safely by a lead vehicle while their drivers get on with something else.

"Apart from the software developed as part of the project, it is really only the wireless network installed between the cars that set them apart from other cars available in showrooms today," said Volvo's Sartre project chief, Linda Wahlström.

The 125-mile test run was conducted at an average speed of just over 50mph and kept the three cars behind the truck at an average separation of 6m.

Volvo has tested the technology many times before, but until now only on private test tracks.

"We has slopes… it was quite windy [and there was] a lot of other traffic, and it was great to see the system could handle it," said Ricardo chief engineer Eric Chan. "It was a very positive experience."
As noted previously, this technology could ultimately change how we live - radically -
http://www.realjock.com/gayforums/2355677