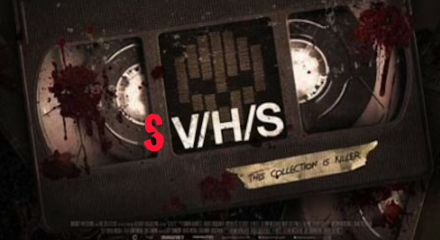 Searching for a missing student, two private investigators break into his house and find collection of VHS tapes. Viewing the horrific contents of each cassette, they realize there may be dark motives behind the student's disappearance.
Trailer is below! Dig It!
"Phase I Clinical Trials" – A man receives an ocular implant (an eye with a camera) only to become terrorized by ghosts that only he can see with said implant.
"A Ride in the Park" – A man riding a bike on the trail through a park stumbles upon what he thinks is someone hurt, only to realize it is actually a zombie. Once bitten, there can be nothing left but some SERIOUS POV zombie madness!
"Safe Haven" – Centers on a documentary crew trying to gain access to Paradise Gates, an Indonesian safe house that is more akin to a polygamist colony. After pulling some strings and getting an exclusive interview with the "Father," all hell breaks loose.
"Slumber Party Alien Abduction" – A group of teenagers decide to throw a party, only to have it crashed by an alien invasion.
The sequel, already premiered at this years SUNDANCE Film Festival, has gotten favorable reviews claiming to SURPASS the first & original V/H/S. Many sites are giving this one a 5/5, whereas many were indifferent about the original. Can't wait!