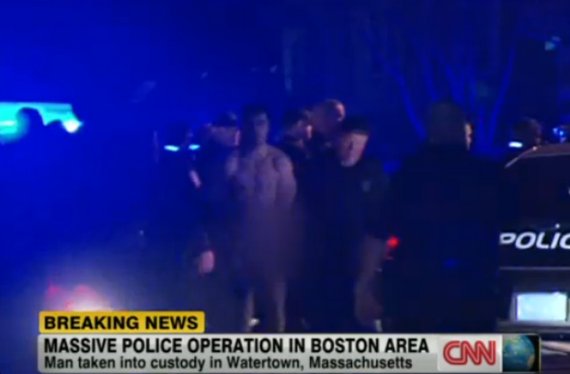 so the boston bombings were obviously terrible... what a fucking week. but as a side story... something happened 2 nights ago as they were chasing the suspects that was very bizarre.
the cops apparently ended up arresting some innocent dude they thought was or might have been one of the bombers. IT WASN'T OF COURSE.
so they have him on the street and make his strip completely naked. ok. very humiliating. especially since the guy was innocent but it's kind of understandable if they think he might be holding a bomb. then once he's naked and clearly not a danger, they keep him naked... then cuff him with his hands behind his back... ok so now he cant even cover himself with his hands. then he's paraded, marched... whatever you want to say, down the street nude to the police car. remember the dude is totally innocent.
to make matters worse for this guy, cnn is broadcasting it and running it on a loop... they blur his dick but still see his pubes and face as he walks to the car and gets in. he's also in really great shape. arms. chest. kinda hot. and photogs are snapping pics of his humiliation. he didn't even look like one of the suspects. one was a little heavy and not in good shape and the other was some twinky teen.
i couldn't believe what i was seeing on many levels. how surreal was this for the guy?
what fascinated me is how the guy never drops his head in shame. he keeps his head up and walks confidently. i was on the phone with a friend and we both thought he might be the wrong guy and he's walking like that becasue a) he's ripped and prob glad he goes to the gym all the time and b) figuring i'm innocent so nothing is gonna happen and i'm gonna sue someone so here i am america take a look c) hung like a horse or d) maybe he's just in shock at what's happening
he was released a few hours later presumably clothed.
since this happened... it's almost as though no one wants to talk about it... cnn acts like it didnt' just broadcast some poor innocent guys naked humiliation. i guess why embarrass him even more... or them. they didn't have the best week i guess.
i've read a few things early on that he might have been the guy who was carjacked by the bombers. if that's the case then damn... he really had a bad night.
anyone else see this? if it were you... knowing the city was in a panic... and the cops were looking for these guys... would you be forgiving? angry? how embarrassed would you be?
i think the cops at least should have covered him up once he was naked and they were sure he wasn't holding a bomb.
maybe they just wanted to humiliate him. that's kinda why we do the presumed innocent thing isn't it?
i know there are many parts of this whole saga that's way more important like that poor adorable dead kid, the 2 other victims, people who lost limbs, the extremist older bro and why he did this... how the younger bro got into it as well when everything points to him being a nice goofy stoner kid... the fam back in Chechnya... tons of stuff... but this small side story just fascinates me... might be becasue i once had an experience involving the cops and me completely naked... it's a strange feeling.