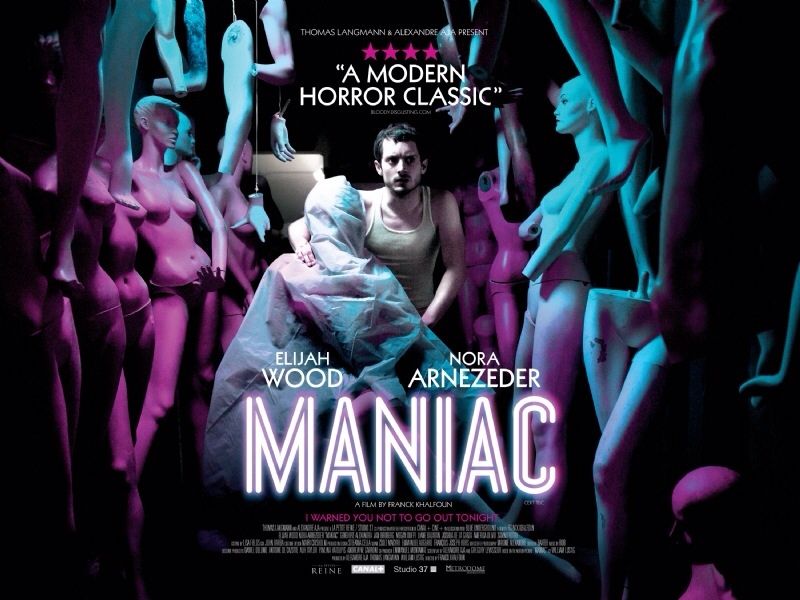 (trailer is below!)
This is hands down one of the BEST remakes of the past decade. I really liked how they added the modern twist of Frank finding potential victims via dating sites/apps. As a horror remake, it did how it's supposed to be done: Stay true to the original source material yet make it your own.
& the director did just that! One achieving thing about this remake is that the ENTIRE movie comes from Frank's POV. Through his eyes. You see what he sees. Only real glimpses you catch of Elijah's 'Frank' is in reflections, etc. It was a awesomely done touch! This film is beautifully shot & has a awesome pulsing synth score. Oh & adding the notorious song from SILENCE OF THE LAMBS, "Goodbye Horses", to one of the characters' ipod play-lists had me "LOL". Hehe
I love this film not for the violence, but for the geekgasm due to the director's fusing two styles of cinema together that I'm a fan of: the euro/italian sexy "giallos" (stylish 60's-70's sexy pulp thrillers/slashers) && the american 70's "grind-house" .
However the practical effects are top-notch.
Check it out in June on VOD/MOD/etc.. I do recommend this one!
PLOT:
Frank (Wood) is one very deranged individual. Scarred by childhood experiences of his promiscuous mother and plagued by debilitating migraines, he is also regularly overwhelmed by a compulsion to stalk, kill, and scalp beautiful women. A mannequin restorer by trade, Frank uses these newly liberated scalps to adorn his props, who in his twisted psyche then become his permanent companions – female partners who will never leave or abuse him.
All of this has the potential to change, however, with the arrival of Anna (Arnezeder), a French artist who wishes to use some of Frank's impressive mannequins as part of her latest installation. As the two get to know each other, it seems that a potentially real relationship may be brewing for Frank – but is redemption actually a possibility for someone so deeply disturbed? If you've seen the original Maniac, then you already know the answer to that.
The Official Red-Band Trailer (for the Cannes film festival)
The "Critic Praise" trailer (different than the previous trailer!)