...the Question!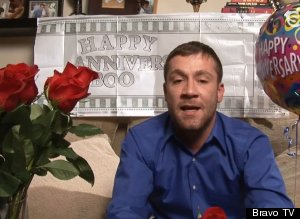 http://www.huffingtonpost.com/2013/07/16/dave-bradberry-below-deck_n_3605208.html
HuffPostA (Bravo TV) "Below Deck" crew member got the surprise of his life this week when his boyfriend popped the question via Skype.

Dave Bradberry was all smiles after receiving the proposal from his his boyfriend Trevor Knight, a gay porn star, on his 26th birthday.

Bradberry, who also had a short stint in the adult film industry, called the engagement "unexpected," adding in an interview:
Bravo-TV"We had never really even talked seriously about getting married, so it was very much a surprise. Trevor says it took me being away from him during charter season to realize how much he needed me in his life. The proposal way very impromptu. I was blown away. We have not gotten married yet; we had decided early on that we would not begin the wedding planning until Proposition 8 was overturned. Now that it has been, wedding bells are in the future."
Full interview:
http://www.bravotv.com/below-deck/season-1/blogs/burning-questions/dave-bradberry-wedding-bells-are-in-the-future?page=0,0
Photo gallery of the happy couple:
http://www.bravotv.com/below-deck/season-1/photos/photo-diaries/david-bradberrys-personal-photos#image-164203
A quick perusal of "Trevor Knight" in the forums showed he was is fairly popular pornstar around these parts, so just thought I'd share. Congrats to them!