I just got the most genius thing ever created... a comic book featuring
Glenn Danzig
and
Henry Rollins
as a gay couple!
Its titled
Henry & Glenn Forever
.
Someone gave the first issue to my boyfriend as a present/joke. I read it and the book turned out to be pretty funny and cool, to the point I ordered the 2 sequels (Henry and Glenn Forever and Ever) that just arrived today! The 2 last issues are specially awesome, divided into 3 arcs that go from cute to badass, all with hilarious references to the 2 rockers living in the same house dealing with domestic everyday problems.
Im a HUGE fan of the Misfits and Blackflag and I also dig Samhain and Danzig and I like comics too.. so this is perfect.
To the ones who don't know who these guys are:
Picture 2 muscled, obviously straight macho rockers leaders of 2 of the most iconic punk/hardcore bands ever portrayed as a gay couple. Them guys are pretty old nowadays but still rocking!
Some pics:
hahaha covers crack me up
Danzig and Rollins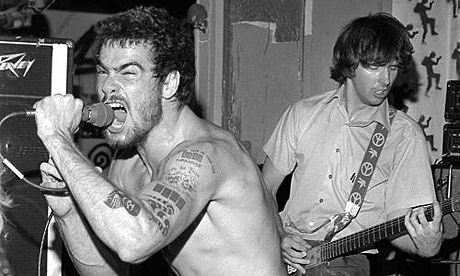 singing together...awww!
I