"Why, no! I'm
Senhor Testiculo
!"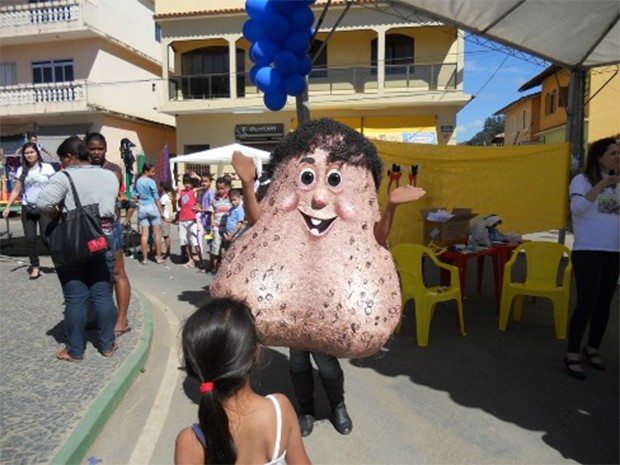 ¡Ay, caramba!
Associacao de Assistencia as Pessoas com Cancer (AAPEC)(translated via Google)The AAPEC Viçosa attended the "9th Party Horse and Mules" of Viçosa, which took place at the Exhibition of violist, from 18 to 21 April ((Slide show at: http://www.aapec.org.br/2013-04-18-vicosa/)), and had the presence of hundreds of people... Institution leaflets about breast cancer, uterine cervix, and prostate were distributed, on occasion.

Both children and adults loved taking pictures with the AAPEC mascot, a friendly snowman in the shape of testicle

, which... drew everyone's attention.
So, that's a "snowman," eh? Okay, player. Frosty would've done me just fine, thanks! So where am I supposed to stick the carrot? (RJ, don't answer that.)
Anyway, AAPEC's a Brazilian group raising awareness about testicular cancer, using a mascot, that, apparently, wouldn't be too fond of getting a Brazilian.
Here's a kinder, gentler, more abstract but stubblier version...
http://www.buzzfeed.com/ryanhatesthis/there-is-a-brazilian-mascot-for-testicular-cancer-named-mr-b
BuzzfeedWell, remember, fellas: While Mr. Balls might be something out of a nightmare, the real nightmare is letting testicular cancer go undetected.
aside: if you happen to wind up in a Burn Ward in Brazil, don't you worry, they've got a not-scary-at-all mascot for that, too...
http://www.agenciaminas.mg.gov.br/multimidia/galerias/fhemig-faz-alerta-sobre-os-agentes-causadores-de-queimaduras/
(let's make sure these two never meet up at a churrascarria)
aside #2: For a serious RJ discussion on testicular cancer, go here...
http://www.realjock.com/gayforums/7520