Mar 09, 2014 12:42 PM GMT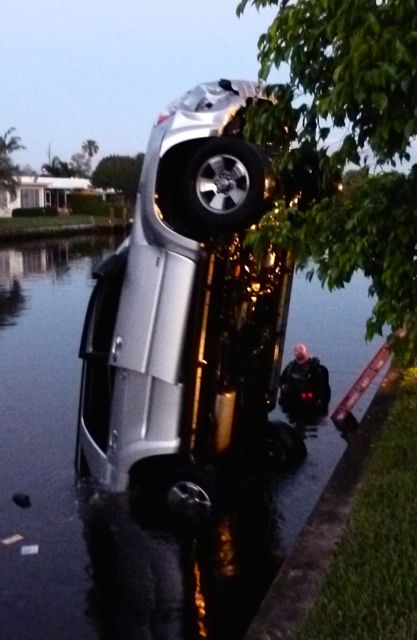 Picture I took of a Toyota 4RUNNER being brought out of river just before sunrise
Our 2nd-floor condo faces a river, with parking between our building and the river wall. At 5 this morning EDT, a car went over the wall into the river from the parking lot for some unknown reason.
Our downstairs neighbor heard the noise, saw the car lights on the water, and phoned 911. Next she phoned us, still asleep, to help with the rescue. Our neighbor didn't see anyone get out of the car, but she had gone inside her condo for a few minutes while she was phoning.
I raced downstairs, and saw the car was already totally submerged beneath several feet of water, lights still on. I was about to jump in when the police arrived, and they quickly went into the water themselves. I must say our Wilton Manors police, fire and EMS always respond very rapidly.
Our neighbor gave them a hammer to smash the door windows underwater if needed. They found no passengers, and the driver's door was open. EMS and fire trucks had now arrived, and equipped divers went into the river. They also found no victims. Meanwhile the police followed wet footprints across the parking lot to our building's locked back entrance, and up the stairwell to the 3rd floor, but then lost the trail on the dark carpet.
For whatever reason the police did not do a search of the floor. It seems pretty obvious someone dripping wet went up the stairs, but it's unknown how many people may have been in the car. If someone escaped they may not want to face the police right now if they're intoxicated.
The divers retrieved documents from the car's glovebox, and later a wallet and cell phone, all from the same person, with a Georgia address, and the car is tagged in Georgia, too. But not a resident we know (we checked our official list, nor did his photo look familiar), so perhaps a non-screened guest staying here, who technically should not have had a building key.
Whoever this guy is, he now has no car, no driver's license, no credit cards, no ID & medical cards, and may even be injured. I'm still surprised the police didn't do a room-by-room search, based on a potential medical emergency. Did he have any passengers who drowned or were injured? Will their bodies float down to the ocean a couple of miles away?