getting a mid rise condo ready for rent, nice looking modern flooring for about $1.00/ft-sq
-stripped the old flooring down to the bare concrete. Rolled the carpet and under laymen up, must wear a respirator. Cut the rolled carpet into byte size chunks with a sawzall. Note; the carpet under lament pad is glued to the cement with mastic, need to scrape this. The carpet tack board concrete nails come off easy with a 60 lb caliche bar.
-ground off about 1/16" of the concrete top surface to remove old paint & mastic. Left about 10% of the paint here and there. Rented a Home Depot concrete floor grinder and a diamond grit mastic removal wheel for $150.00/day. Mopped and vacuumed the floor about six times to remove all the dust. Must wear a respirator.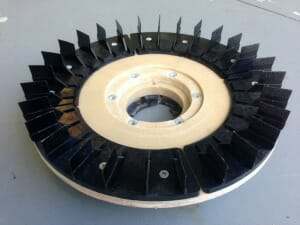 -applied a acid reactive concrete dye with a plastic bug sprayer and a old corn broom. the out gas and odor was not too bad. After the dye cured removed the excess with water and baking soda. Mopped the floor about four times. Picked a dark Reagen brown color dye; it had a distressed leather color. Alone by itself the final dye color was lighter than expected. Lighter brighter colors; some blue and or greens are rumored to be, over time, unstable with moisture that is wicked up into the cement floor.
-applied two coats of very high gloss solvent based epoxy clear coat. the out gas and odor was not too bad. This darkens the lighter than expected dye considerably. The 10% left over old paint looks very nice indeed. Used a roller to apply the clear coat and 700 ft-sq was done in an hour with 2 gallons. The epoxy dried slower than expected (24hours) its like 100F outside today so the surface was very warm. It was the 50% solids type epoxy. There is a professional 90% solids product, dries faster, might use this in the winter when things are cooler.
The dye & clear coat was a Chem-Coat product: