We got home just before midnight from a music recital, featuring the 2 young people I pictured in my other thread about a tearoom a few days ago. A Russian violinist (left in photo below) and a Philippine pianist (right). Circumstances did not allow me to take a pic of them actually performing in the hall tonight.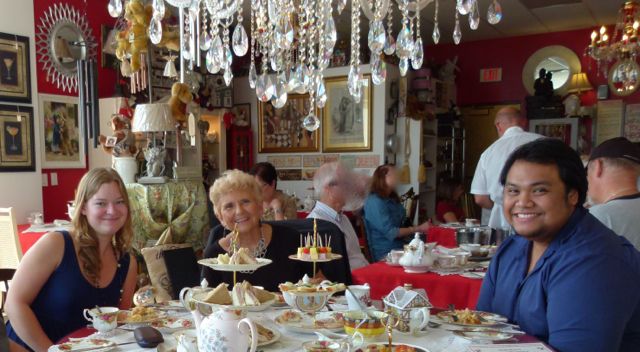 http://www.realjock.com/gayforums/3899634?forumpage=0
Once again a really great performance, I've heard them several times before. They're still in university, not yet professionals under any contract, and so struggling. One of their selections was a wonderful original transcription of a Ravel piano concerto they composed together themselves for piano and violin.
My husband's sister (middle in pic above) is arranging for them to live with her for virtually nothing, and her friends have underwritten some of their trips to competitions around the US, in which they've done very well and gotten good exposure.
Tonight I saw that the pianist's iPad is badly cracked from being dropped. He's the first I've seen use one for his music, rather than having traditional paper sheet music in front of him at the piano. He taps the screen to "flip" pages. Only for when he's playing accompaniment, however, as he does memorize his solo pieces, and sets the iPad down.
So after the recital I told him I'd get him a replacement iPad, a gift from me and my husband he'll receive in a few days. All of us think they both have potential for great musical careers, and we'd like to help them to achieve that.
One oddity, though - on stage with them tonight was a painter! I think it was the violinist's idea, but it really didn't work. The musicians were dressed formally, she in a lovely floor-length gown that looked almost classical Greek, while the painter was in white overalls! As they've playing the artist began with a blank canvas to create something I would charitably describe as glorified finger painting, and seemed to have no relationship to the music that was being performed.
But after the recital we learned the painting was for sale, and quickly snapped up by an architect we know, a music devotee who holds recitals in his own home that we've attended. Apparently the 2 musicians will share some of that money, which is good. And I'll be interested to see where the architect displays that dreadful piece next time we're over there.
Anyway a nice evening, ending with a late snack at someone's home. Including some cola for me with its caffeine to make driving home a bit easier, but now I'm stuck wide awake. Ah well, tomorrow (today) is Sunday, a blank on my calendar for once.
EDIT: Hell, I just remembered - earlier Saturday we agreed to brunch at 11:00 Sunday with 3 other guys, gotta leave even earlier. I forgot to put it into the calendar.