The new update to Apple's iOS apparently adds several same-sex couples and two-daddy or two-mommy family emojis. As well as more politically-correct shading, suggesting emojis of different races.
http://gizmodo.com/5918381/apple-adds-gay-and-lesbian-couple-icons-to-ios-6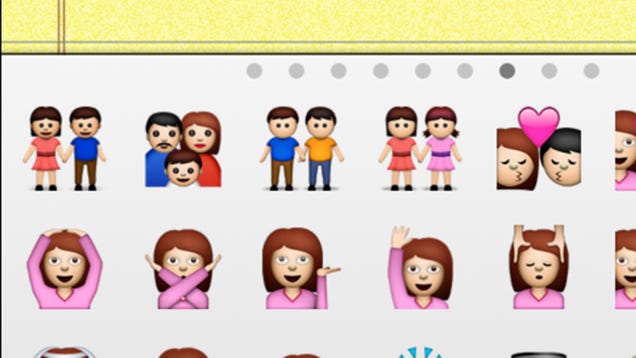 Personally, I haven't seen them - the update takes hours to download and keeps failing after tying up both my phone and my computer all day. It took three days for the iPad.
I never actually use the iOS emoji. I can't make out what most of them are supposed to represent, and despite being numerous, they seem to lack any range of emotions. Just a lot of happy smiling yellow/orange people.
Anyway,
real
LGBT emojis would have tops, bottoms, subs, doms, twinks, muscle-daddies... just to get started.