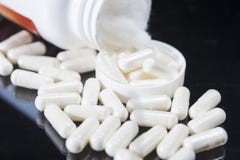 I've been allergic to Penicillin for as long as I can remember. Apparently I had a severe reaction as a child so my mother told me to always inform my doctors I was allergic to it.
Over the years, there have been times where my doctor needed to give me Penicillin but couldn't. For example, once I had an MRSA infection from a motorcycle injury. The doctor told me he couldn't guarantee the substitute antibiotic would cure it and that I could possibly lose my big toe where the infection was.
I kept hearing that people often outgrow drug allergies as adults so today I went in for what is known as a "drug challenge." You have to find an allergist who does drug testing as not all allergist do it.
First, she took my history with the drug and since this reaction happened when I was a child that's really all the information I could provide. Then on one arm, she made a small incision with saline and another with histamine to make sure I reacted properly. Then on the other arm, she gave me saline with one of the tiny razors and Penicillin with the other. No reaction. Then she brought in 500mgs of Penicillin in tablet form in a cup. She broke one of the tablets in pieces and had me chew the smallest piece up and put it under my tongue. This went on until it was all consumed.
The entire procedure took an hour and a half. It was a frightening experience to put something i've been told my whole life would kill me into my mouth....especially in such larges doses! But now I feel so liberated.
I just thought I would post this here in case any of you have this problem. She told me very few people take the time to do this test because no one ever thinks about it until they're sick.