Attended a fundraiser at a private home tonight, to benefit needy children. Your admission "ticket" was a kid's bicycle as a Christmas gift. Either an entire new bike, or else you contributed a minimum amount to a bike purchase. Most of us gave the money for an entire bike to the organizer/host couple ahead of the event, who bought them in bulk at a discount.
My husband & I did this and bought several. The top donor, whom we know, bought 20 bikes. A total of nearly 300 bikes were collected.
Of the 2 benefiting children's agencies, one works with HIV/AIDS pediatric cases. While the other shelters abandoned and abused children, effectively orphans while the courts decide their disposition.
A team of volunteers worked from early this morning to assemble the bikes, which were displayed at the party tonight. Here are some of the bikes for older children: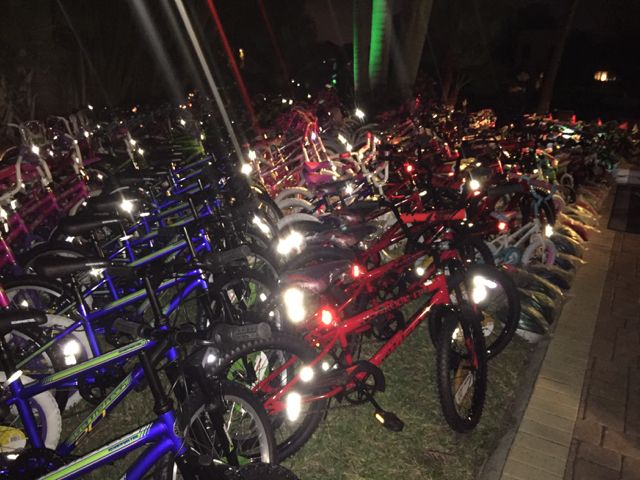 Here are some of the bikes for the younger kids, including some trikes. You'll notice the bike helmets displayed on the ground, which all the children will also get with their new bike.
This took place in Wilton Manors, Florida, the "gay ghetto" as southbeach1500 scornfully calls us. This is the kind of thing this largely gay community regularly does, not just at Christmas. And one more reason my husband & I love living here.