The situation in the UK appears to be truly dreadful. Incredible that some Brits focus their energy on US politics when their economic and political systems appear to be in shambles, or at least, support conditions that should be condemned by the civilized (or should we say, civilised) world.
--------------------------------------------------
Police use of stun guns on under-18s is rising against a backdrop of deprivation and bad housing
The United Nations will condemn and publicly shame the Government in May for allowing police to use
50,000-volt stun guns on children, as well as stopping and searching toddlers.
-----
A UN source said the UK has been asked to provide data on police Taser use, as well as the number of rubber or plastic bullets that have been fired at children.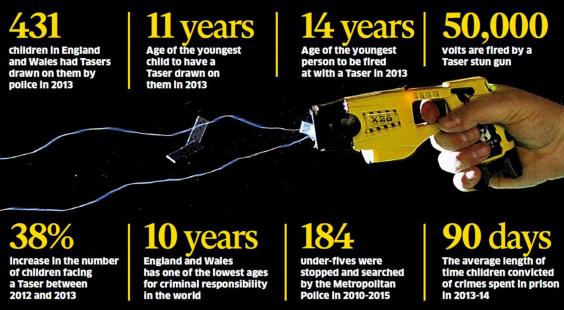 Police stopped and searched nearly 300 children aged under five in the five years to 2014, meaning officers might have believed toddlers were carrying a knife or involved in terrorism.
Typically, though, the searches are undertaken because officers suspect the children have been used by adults to hide weapons, stolen goods, or drugs.
-----
"Reductions to household income for poorer children as a result of tax, transfer and social security benefit changes have led to food and fuel poverty, and the sharply increased use of crisis food bank provision by families. In some parts of the UK there is insufficient affordable decent housing which has led to poorer children living in inadequate housing and temporary accommodation."
------
The Howard League for Penal Reform has also told the committee that England and Wales has one of the
lowest ages of criminal responsibility, at 10 years old, and highest level of child incarceration in western Europe.
Its written evidence states: "There are grave concerns about the number of
children who have taken their own lives in prison
, as well as concerns about the increasing use of punitive measures such as solitary confinement and the use of force."
http://www.independent.co.uk/news/uk/crime/united-nations-warns-uk-government-to-stop-tasering-children-a6872591.html