Jun 18, 2017 12:15 AM GMT
Today is our Wilton Manors Gay Pride. I attended alone, my husband a bit under the weather. But he wanted me to go, "show the flag", let him know what went on at the street fair and clubs. Said hello to tons of our friends.
But I only stayed until 4:30, just as the parade was about to start. If you've seen one parade you've seen them all. And one or both of us have marched or ridden in this or other pride parades many times, in my case in other States, too.
I didn't want to leave him alone for too long, and was phoning every hour to make sure he was OK. Without him I left the car at home, impossible parking, instead rode my bike. Under 10 minutes, could lock the bike right on the main drag's sidewalk for free.
I took some snapshots, here are some samples:
This is our entire Wilton Manors City Commission with the Parade Grand Marshall, Sharon Gless, wearing pink. She's extremely gay supportive. Last time I chatted with her she was receiving an award for her LGBT contributions, along with fellow actor and gay activist George Takei, and his huband, Brad Altman Takei. The entire Commission is gay with 1 exception, and he and his charming wife are often more pro-gay in their stances than some of the avowed gay commissioners are.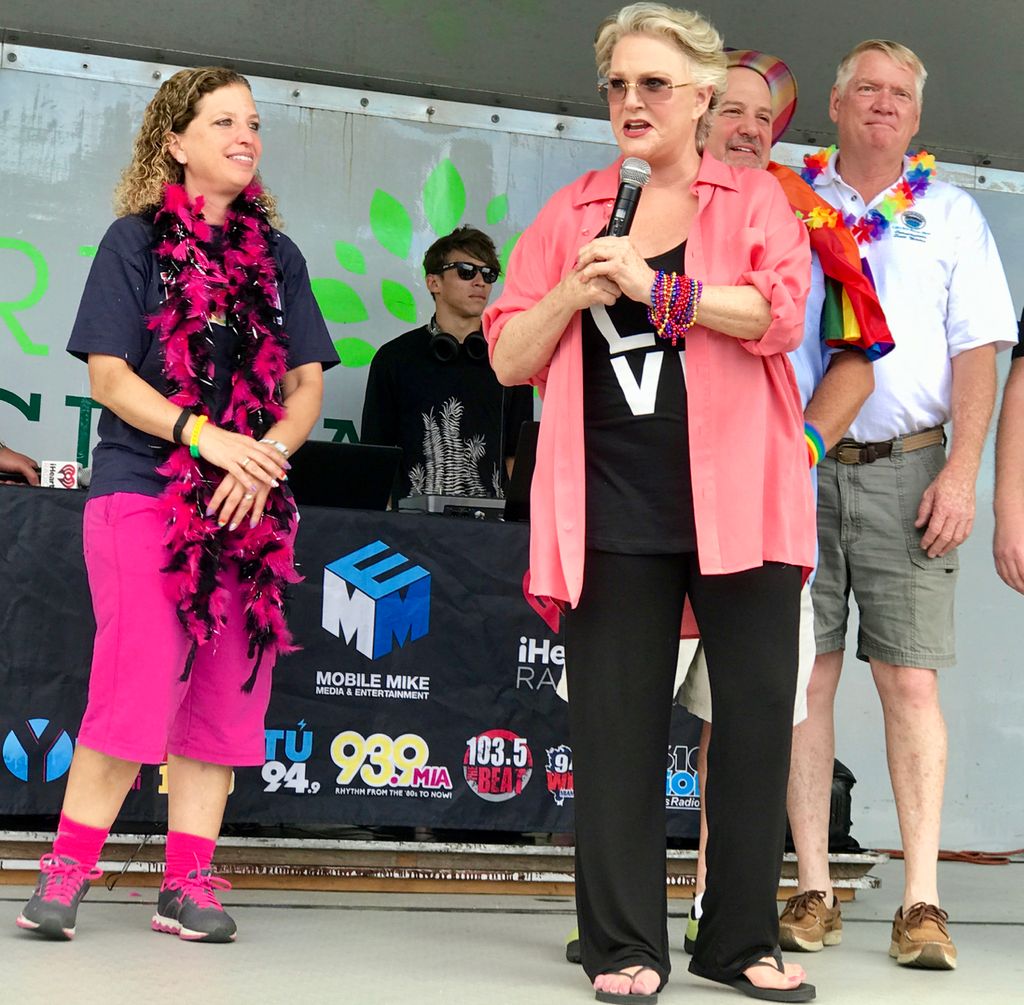 Here's Sharon Gless addressing the crowd from the stage. Gless starred in the TV police drama "Cagney & Lacey", and won TV Emmy and Golden Globe awards, along with many others honors. She also starred in the several TV seasons of the US version of "Queer as Folk". To the left is Congresswoman Debbie Wasserman-Schultz, who had just completed her own remarks. She almost always attends our Pride.
I waved to Debbie from the first row. Whether she recognized & remembered me I don't know (my huband & I had a quick sit-down indoor meal with her I hastily arranged following another WM Pride Parade a few years ago, have also met her at political functions), but she eagerly waved & pointed, loved my baseball cap. The one from HRC that says "Make America Gay Again". That's when she spun around and flashed her T-shirt, to crowd applause, long enough for me to snap it. I think I may send her an HRC MAGA cap as a gift.
In fact, here she is at the 2008 Wilton Manors Pride, when she was our Congressional Representative. Something the Republican Florida legislature subsequently gerrymandered away, to (unsuccessfully) weaken her voter strength. But she still attends our Prides. I was up on stage, but had to lean way back against an equipment van to get the shot I wanted.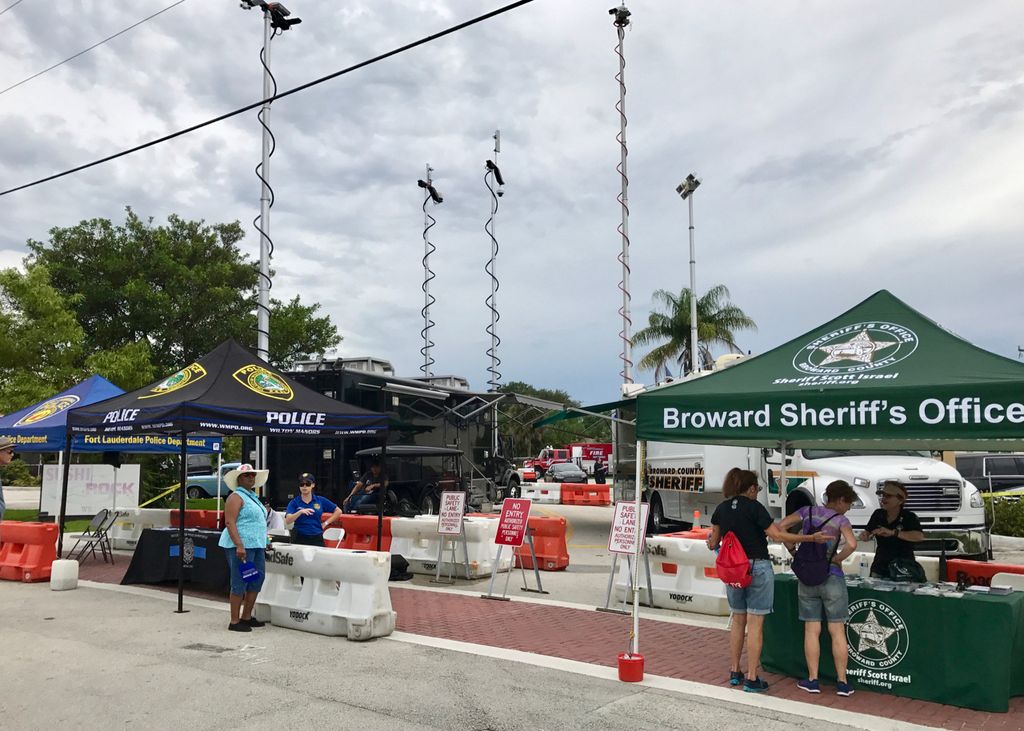 To give you an idea of the security we had. Started last year, following the Pulse Massacre. The white expandable truck to the right is a Broward County Mobile Command Center. The black expandable truck to the left is a survailance center. I understand about 60 TV cameras were posted all around us, that fed into that center.
You notice the weighted barricades, to prevent suicide vehicle rammers, like have been seen in Europe. These barricades were on all the side streets. Along with parked police cruisers with officers alongside. Police were on rooftops. Also horse-mounted police, motor cops (motorcycles), and some on bicycles.
And yet you didn't feel hemmed-in. The police you saw were mostly hatless and dressed in daily police garb, no SWAT uniforms & equipment stuff. The bicycle cops wore shorts. But I understand there were heavily armed SWAT teams positioned nearby but out of sight, ready to quickly deploy if needed. This was a well-behaved celebration, not a street riot. These precautions were against the crazy Right Wingers and other terrorists.
You'll also see 3 canopies in the foreground of the pic. From right to left: Broward County Sheriff's Office; Wilton Manors PD; and Fort Lauderdale PD. They were all recruiting employment applicants from the LGBT community! And a good number of LGBT already openly serve on those police forces. We're in a viciously homophobic Red State, but many local communities refuse to comply with Republican bigotry and hatred.