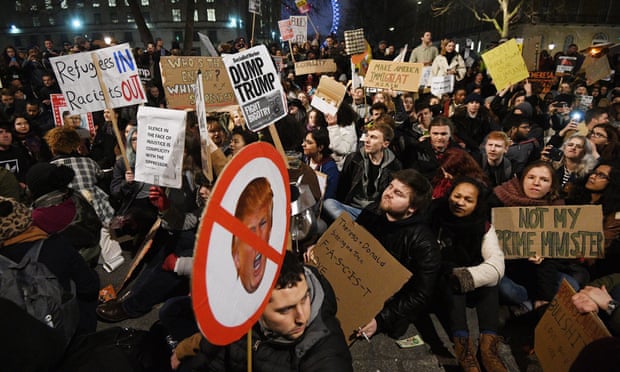 President Trump react to a world leader who,
afraid for his image, perhaps afraid for himself,
refused to fulfill a promise to visit a loyal ally. He might fire off a tweet: "RAN from critics. A gift for crooked MSM. TOTAL pathetic loser!"
But he won't, because the loser is him
. He got to hold hands with Theresa May when she visited Washington, but alas, that may be the high point of his cuddle-fest with her, and with us – because Trump, it now appears, is not keen on making his proposed state visit to Britain any time soon.
He has apparently, in a recent telephone call to the prime minister, declared that he does not want to come if there are to be large-scale protests. The visit, we are told, is on hold.
Some may be surprised by this. From the violence and menace that became features of his ugly campaign, it was easy to assume that he liked a bit of edge at his public appearances. But on those occasions, he knew he would always have the support of far-right thugs and hangers-on who could drown out dissent and, if need be, throw a few punches at protesters, passers-by, anyone who would dare to question him. That intimidation, unprecedented in recent history, would have been more difficult to replicate here; he could hardly bring his street fighters with him. There are only so many seats on Air Force One.
Trump's state visit to Britain put on hold
Maybe he didn't fancy the trip without Theresa there to hold his hand; to keep him strong and stable, as it were. Even he might blanch – all the way from Tango orange to the whitest white – at the idea of skipping through the Downing Street rose garden hand in hand with Phil the spreadsheet Hammond or Boris Johnson.
So we may be denied a spectacle then but will hopefully be saved from the distraction of Trump's bandwagon when we may be fixating on at least one more general election, and we should certainly be focusing on the history-defining implications of Brexit.
https://www.theguardian.com/commentisfree/2017/jun/11/trump-scared-uk-protest-us-president