May 04, 2009 11:06 PM GMT
Okay, so I used a provocative subject title to get you to look.
Last week, the Real Jock/Diakadi trainers held boot camp at Atlantis resort week in Cancun. It was an amazing week. Between 28 and 75 guys took part in each workout. A woman also took part a few times (which is a good turn out considering there were only like 5 female guests there)
Here are some photos I took during two of the sessions.
Arriving in the morning
Billy taking us through some stretches
Some one-arm planks. I just happened to have the best view. (If Mark, the second guy from the right happens to see this - call me)
Mike shows off how big of a catcher he is
Who needs benches when you can use your workout partner
We worked in pairs and rotated through different stations. By the way, those balls being thrown over the net had about 8 pounds of water in them.
Many people hadn't jumped rope since grade school
More big balls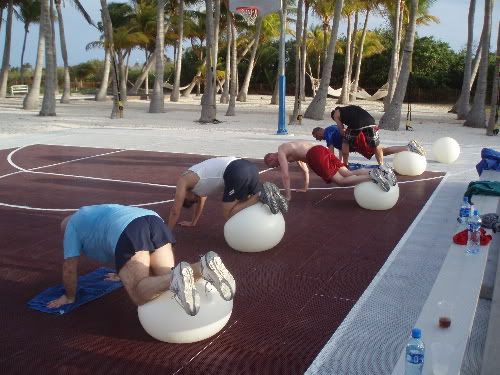 Four really hot guys (including two RJ members) skating on a basketball court
I'm disappointed this came out blurry because this exercise was killer. The only two injuries that occurred during boot camp happened while trying to jump the giant rope.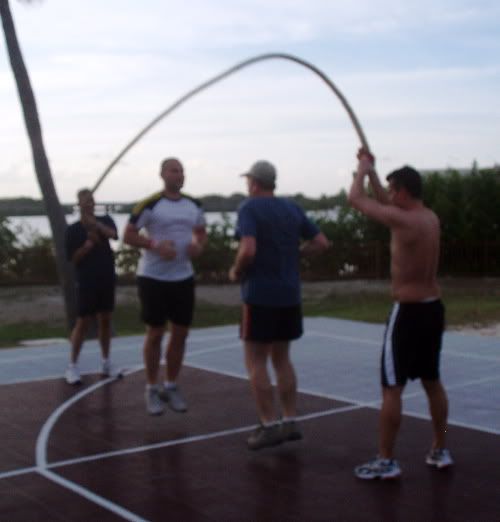 Who would have thought that just having to jump up and down for a couple minutes could be so damn hard. We had to jump over those little orange cones. After about 45 seconds it felt like they were two feet high.
And finally this has nothing to do with boot camp but it was one of my favorite moments away from boot camp. What gaycation is complete without at least one man in drag.
For some reason, I couldn't help wondering what GuiltyGear would look like in that outfit. Fabulous, I'm sure.
If you ever have a chance to go to one of Billy and Mike's boot camps I highly recommend you do. They are unbelievably fun. Tough, but fun. This was the second Atlantis trip I've gone on where they have had boot camp and I am hard pressed to think of two vacations where I have had a better time. Hopefully Atlantis will continue to work with Real Jock to offer boot camp at their resort vacations.