and it is great! ...
Rough diet to some degree.
.
I choose to not eat any grains (breads, pasta, etc), no dairy products, and no refined sugars...the author was right that eliminated anything with a label on it...there is sugar in everything
.
.
That left nothing but fresh food...organic, of course. . I got my carbs from carrots, cauliflower, bananas, and nuts. Carrots, cauliflower, brocolli, and onions were my main veggies. Eggs, chicken and sometimes beef (grass-fed cows, of course) for protein. Oranges and bananas for fruits.
.
Cashews and almonds for nuts.
.
All augmented with a powerful liquid vitamin (in my carrot and orange juice in the morning), FRS, multivitamin pills, and chelated calcium and magnesium tablets.
No caffeine.
.
Boy, the first two weeks without that morning cuppa coffee was rough
And lots of exercise...the exercise was the most effective part of all!
Oh, I did still eat an ounce or two of chocolate at night when I read...reading was my destressing activity....dark, 71% cocoa, fairly traded of course!
So at the end of six weeks, I feel way better than when I started. . I am much more up and I have lots more energy.
.
And a lot trimmer!
...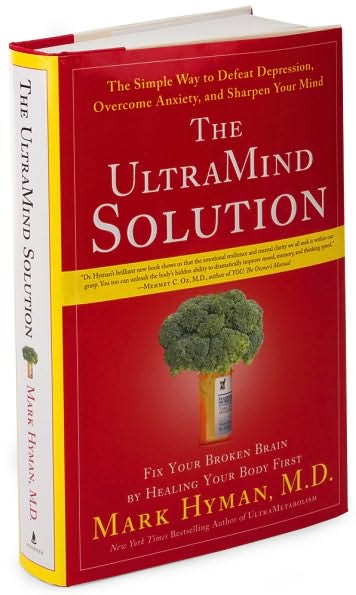 Of course, my problem was caused by the cancer therapy...and all my dr wanted to do was give me pills to mask the symptoms.
.
But I wanted the "problem" fixed, which is why I did this.
.
I looked to eliminating any possible internal inflammation in the body and brain left over from the treatment and due to diet.
Review
"Broken brains" go by many names -- depression, anxiety, memory loss, brain fog, attention deficit disorder, autism, and dementia, to name a few -- and show up in radically different ways from person to person, making each seem like a separate problem.
But the truth is that these "diagnoses" are all the result of a few basic problems with our biology. Pinpoint these biological problems, fix them, and let your body's natural healing intelligence take over to repair your brain. Now you can experience an UltraMind -- one that is highly focused and able to pay attention at will, with a strong, reliable memory and a mood that is calm, confident, in control, and in good spirits.
We have all heard of the mind-body connection or how our thoughts affect the health of our body. But the reverse is far more powerful: what you do to your body, your basic biology, has a profound effect on your brain.
Have you ever experienced instant clarity after exercise? Alertness after drinking coffee? A mental crash after popping candy? Does your brain inexplicably slow down during stress, while multitasking, or when meeting a deadline? Each is an example of how what we do to our bodies -- whether through nutrition, sleep, exercise, or stress -- has a dramatic effect on our brains.
Conventional treatments don't help, or provide only slight benefit, because they just manage symptoms rather than deal with -- and heal -- the underlying problem. And just as brain problems all stem from the same root causes, they all have the same solution -- The UltraMind Solution. ... "