Aug 10, 2009 12:27 AM GMT
A gay couple we know has a large boat, bigger than a cabin cruiser, can take like 25 guests. We only had 14 today, all but 2 being gay couples. We cruised down the Intracoastal Waterway from Fort Lauderdale to Miami, anchoring off an undeveloped island where we could swim (can't take this thing in too close to shore).
Some like me just swam around the boat (a mix of nude & suited), a couple swam all the way to shore to use the beach, and the rest went ashore in the Zodiac dingy which was winched down from an upper deck.
Here are some pics I took. For privacy faces are blurred, and details that would identify the ship are not shown. But a big sucker, with 2 full bridges, 2 entertainment levels, several full baths (or heads). I knew we must be something special when all the other boats coming alongside and homeowners on shore were waving at us, which I didn't see them doing to other craft. I tell ya, when the question is asked online here about where gays can travel for a nice time, or even live, I never have any hesitation. Here's why:
An owner of the boat on the right. Most of the guys were aged 40 to 60, as these 3 are, and wore square-cut Speedos. Most deserved to:
More guys gathered on the bow after we had dropped anchor. In the background is the shore to which some swam or else took the Zodiac dinghy:
Some guys already in the 85-degree water, as the dingy is winched down from an upper level off the stern:
The wake this thing creates, yet we aren't even going fast, as evidenced by the flag. You can see smaller craft in the background for scale: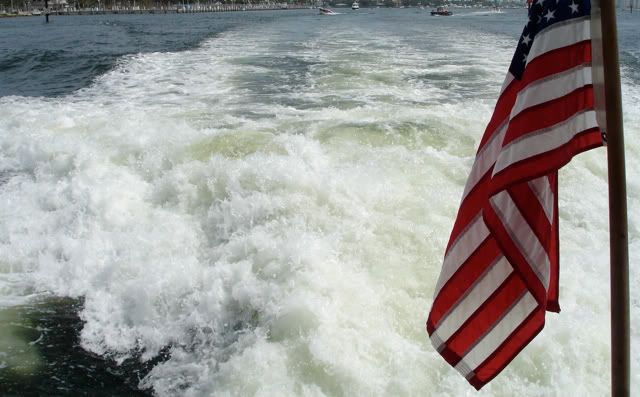 A view to the bow: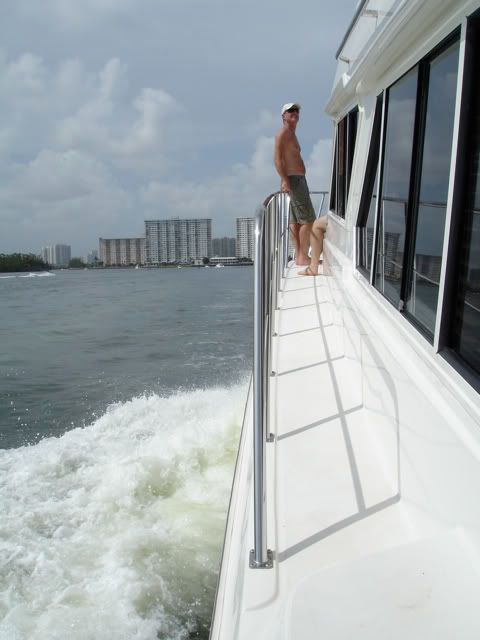 Much of the Intracoastal is framed by huge condos, like these latest from Donald Trump, the ocean on the other side of them. The 2 on the right (southernmost) are still vacant. Haulover legally nude beach is almost next to them, encroaching on some of the former privacy: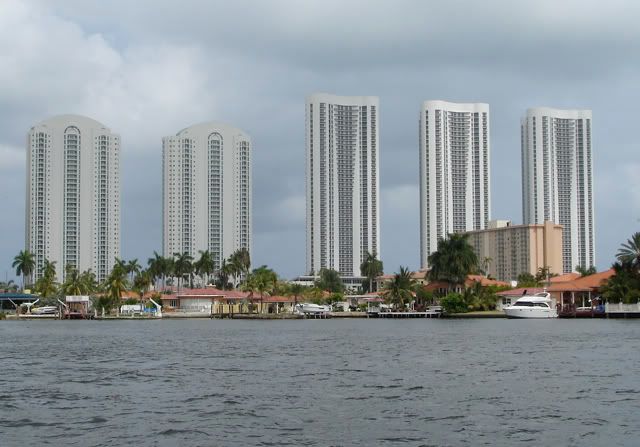 This is what you'd rather see, mangrove stands in swampy salt water, where palm trees don't grow. But boat wakes damage their exposed roots and ecosystems, so rock breakers had to be installed wherever they exist along the Waterway, and boats must come to idle speed: