Aug 18, 2009 10:51 PM GMT
Last week I began a thread of our "fav" lowbudget horror films growing up through the years.
Now, time for getting deeper with it. Many o' horror films over the decades have/did push the homosexual envelope .... not outright slamming it in your face, but the overtones either just being there, or the films plot serving as a slice of "homosexual panic". Horror is rife with many social/political subtexts of our times, as well as horrors dealing with growing up, coming out, being different & your body working against you.
Here are some that I found that came to mind:
FEAR NO EVIL (1981) - Andrew is a introverted Highschool student. He's also the antichrist. In this film, written/directed by the "then-in-the-closet" Frank Laloggia , he spills out all his inner demons (literally) with this "the worm that turns" tale of the antichrist making his return to earth. In it, there are many scenes of latent homosexual erotica, including a complete nude scene in the school locker room when Andrew (the antichrist) & his bully share a kiss in a fit of rage.
HOWEVER...
THE one that is blatantly homo-erotic & charged with many gay "coming out" themes is 1985's A NIGHTMARE ON ELM STREET PART 2: FREDDY'S REVENGE
In it, the lead character is Jesse, fresh from moving into the infamous house on elm street (the very house the heroine Nancy Thompson resided in from PART 1).
Every night after his arrival, he screams (correction: squeeles like a chick) from a nightmare covered/soaked in night sweat. While "befriending" the rich neighborhood girl, they discover a diary that belonged to Nancy (the previous heroine from part 1) in his closet. There, they read about Freddy Krueger & her nightmares. Which begins jesse's panic - he too has been having horrifying nightmares of Freddy.
Seems that Freddy is pursuing Jesse to take over/possess his body, to come out in the real world.
This is RIFE with so many inuendo's from the get-go. Aside from something "demonic" being in his body wanting to come out, he gets urges. These urges usually end of him killing someone via Freddy.
In one awkward scene, Jesse leaves in middle of the night to a "leather" bar, where he encounters his sadistic highschool P.E. Coach. There, the PE COACH makes Jesse run laps around the gymnasium (in the middle of the night???! while in your leather bound outfit??) - only for supernatural forces to TIE HIM UP in the locker room showers & get his bare ass whipped repeatedly by jump ropes before freddy "comes out" of Jesse.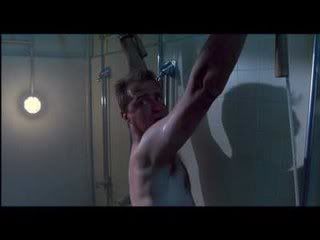 Throughout (including in a climatic scene when he crawls through his near naked friend GRADY's bedroom window to "confess" to him his secret), he mentions something being "inside" him that needs/wants to come out. This scene it "literally" comes out of him!
Only near the end, when his "girlfriend" (the rich friend of the neighborhood he befriended) urges him to "fight" freddy from the inside out. She admits to Jesse her "love" for him .. & they kiss. Thus, defeating freddy & the "evil" lurking inside him.
It's fun dissecting this - now ya'll try some!