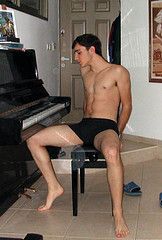 I had decided a few weeks ago against taking on any new students as my time is very limited. However when a friend of a friend introduced me to Craig, I thought....it's the least I can do for this poor struggling college guy.
He is on the swim team at the university and for some reason feels more comfortable in his swim trunks while taking piano lessons.
I don't have the heart to ask him to put his clothes back on, after all, I do want him to be completely comfortable.
We've started working on his digit dexterity, he has a ways to go, but if nothing, I am a patient man. I'm also taking extra time to give him some hands-on training , teaching him how to alternate between adagio appassionata and accelerando...all sotto voce of course.
I'll keep you informed as to his progress.