Feb 11, 2010 11:17 PM GMT
A Charlottetown couple is accusing snowmobilers of running over and killing a young fox in a field behind their home.
Gail Hurry and her husband Paul heard the machines roaring through the field around midnight Friday night.
They spotted the animal's crushed body in the snow on Saturday.
"You can see the tracks, around and around. They went around this animal. They had him cornered. He had nowheres to run," said Hurry, who believes the fox was run over several times.
"I definitely think there should be some kind of a charge. You just can't do this," she said.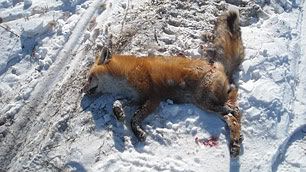 Read more:
http://www.cbc.ca/canada/prince-edward-island/story/2010/02/07/pei-fox-killed-snowmobilers-584.html#ixzz0fH5aiWZ6
----------------------------------------
"The P.E.I. [Prince Edward Island] Snowmobile Association had been offering a $500 reward for the names of the person or persons believed to have deliberately chased down and killed the fox in question by running over it repeatedly with their snowmobiles early last Saturday morning. ...
A spokesman for the department says they will be looking to speak with those individuals, who were identified through tips received from the public. ...
The killing of the fox in this manner has spurred calls for tougher penalties for those convicted of crimes involving animal cruelty."
http://www.theguardian.pe.ca/index.cfm?sid=326073&sc=98