2010 Cannondale SYNAPSE HI-MOD Di2
I'm looking at it for the November ride down to Key West, something lighter and smoother riding than my touring bike. The Di2 designation means it has the new Shimano Di2 electronic shifters, and is based on DuraAce 7900 components.
Do the S.A.V.E. system and carbon frame really give a comfortable ride? The route down to KW is very jarring. The frame geometry also provides a less aggressive and more upright riding position than many other bikes of this type, which I need at my age. I don't want a full-out road racing bike, nor a triathlon.
I had thought I might also take another look at the Trek Roubaix, which I almost bought a couple of years ago, but it seems to have been discontinued. Any thoughts on this Cannondale or other high-end road bikes? Thanks!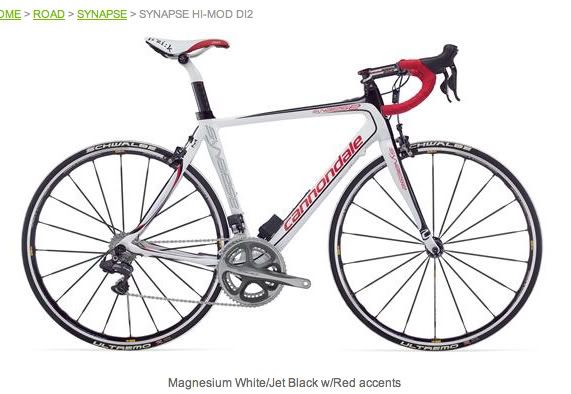 The Cannondale site wouldn't allow a link or download, had to do an image capture from my screen.