Hi Guys –
There have been many various threads over the past few years regarding the all-gay ATLANTIS cruises – the pros, the cons, and other varying opinions and/or questions about them. Since I am leaving today to head to Europe for the Atlantis Mediterranean cruise from Venice, Italy to Athens, Greece – with some exciting stops along the way (see map)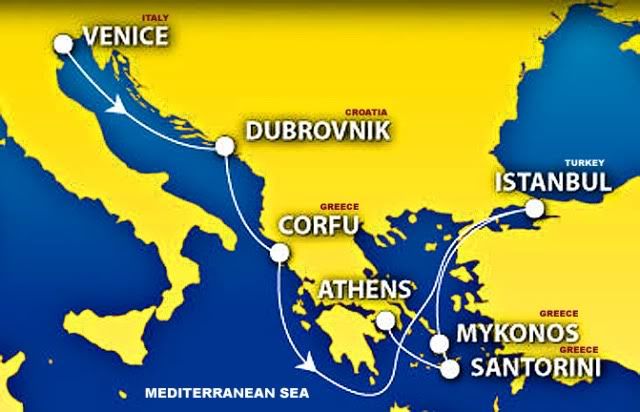 I thought it might be fun (and a nice change of pace from the same old politically-tinged or "Man Above You…" threads) to post something different, act as an RJ correspondent of sorts, reporting on location from the Atlantis Mediterranean cruise. Some of you may have always wondered about these cruises, or are considering going on one in the future, and if that's the case you may find this thread interesting, even entertaining.
That said, come along with me, and I will keep you posted as my Atlantis Mediterranean cruise adventure unfolds…
Day #1 – FINALLY, The long awaited vacation is here!
First thing you should know about going on a cruise, if you have never been on one, is that they are not something you normally plan last-minute. After all, they are not exactly cheap, so planning on going on a cruise (for most of us anyway) requires planning ahead, and saving a some money each month to pay for it. For instance, I decided I wanted to to go on the Summer 2010 Mediterranean cruise in February of 2009 – almost 18 months before the cruise. A cruise like this – including air fare and other fees – will set you back roughly $4000-to-$5000. Now, that may sound like a lot of money, however, if you think of it as something you pay for over the course of 18 months, it's not so bad. Also, if you were to go to all the cities a cruise goes to, flying to each spot, staying in hotels, and eating in restaurants, you would spend twice that. So, seeing Europe onboard a cruise --- where your room and food is all-inclusive --- can actually be one of the more economical ways to vacation in Europe in the long run. The other thing about planning a cruise so far in advance is that it gives you something in the future to look forward to, and that can be a healthy thing. 18 months can go by pretty fast, and by the time your cruise vacation has arrived, you've been paying a little bit at a time, it's now paid for, and all that is left once the vacation date arrives is to have a great adventure.
So, here I am at 6am at the airport in Phoenix…months of anticipation, working out at the gym just a little harder to be in ship-shape, and 4 pieces of luggage later (I'm not kidding – 2 checked bags + 2 carry-ons -- I am the world's worst packer), I am FINALLY on my way.
Problem #1 – My fear of Flying. It doesn't bother me so much flying short distances (my first leg is to Atlanta) but it's flying over oceans (and at night) that really freak me out. Needless to say, my all night flight from Atlanta to Venice Italy over the Atlantic Ocean is not exactly something I'm looking forward to --- but then, isn't that why God invented AMBIEN?
To Be Continued…