I was channel surfing the other day and came across Dr. Roizen, co-author of
You On A Diet
, I really liked what I heard. He was explaining the physiology underlying dieting. I have to understand a topic before I can buying into and commit to it. So I bought his book...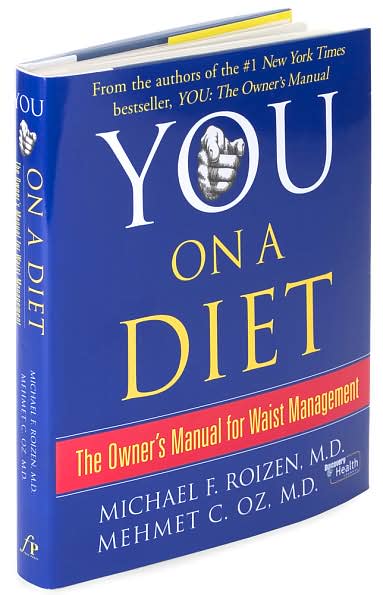 I have just finished Chapter 3 and it has some tips on controlling your appetite that I thought I would pass on:
Before a meal, eat a little fat.
It turns out a little fat in the stomach stimulates production of CCK (Cholecystokinin). This hormone inhibits the emptying of the stomach and stimulates the Vagus nerve to signal the brain to suppress hunger.
The amount of fat is approximately 70 calories, or 6 walnuts or 12 almonds or 20 peanuts. Eat these about 20 minutes before a meal and they will initiate the production of CCK, begin the cessation of hunger, and suppress the desire to eat.
Eat fiber in the morning.
At the end of the small intestine is the ileocecal valve. Fiber slows the passage of food out of the small intestine into the large. Holding the food in the small intestine maintains the feeling of fullness and decreases appetite. Eating a high fiber breakfast will help suppress the afternoon appetite.
Eat on smaller plates.
Smaller portions on a smaller plate will look like you are eating a larger portion on a larger plate. It actually does fool the brain into thinking it has had a full portion
Eat slower.
Give CCK a better chance to work during a meal. Eating the nuts above, give you a headstart on this.
Eat Red Peppers.
Red peppers eaten early in the day, like at breakfast, inhibit the sensory signals from the intestines from reaching the brain. This will help inhibit the hunger signals from the intestines when you are on a low fat diet.