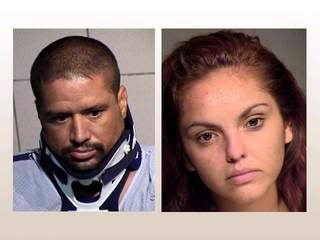 PHOENIX - Police say a man shot by a 14-year-old boy in a Phoenix home last Friday has been released from the hospital and booked into jail.
Richard S. Fiore, 37, was booked on four counts of aggravated assault, burglary and prohibited possession of a firearm. 24-year-old Alexis Monique Hinojos was arrested Thursday on suspicion of burglary.
According to Phoenix police, Fiore was shot when he allegedly broke into the home near 51st Avenue and Baseline Road.
The boy, who was home with three siblings, ages 12, 10 and 8, refused to answer the door when Hinojos reportedly approached the home and pounded on the door.
The teen took his siblings upstairs and picked up a handgun.
As he went to the top of the stairs, the suspect broke through the front door and pointed a handgun at the boy, according to police.
The boy fired his weapon at Fiore who was struck and fell to the floor.
Fiore was taken to the hospital where he remained until Wednesday.
He was booked into jail upon his release from the hospital.