Jul 20, 2012 12:29 AM GMT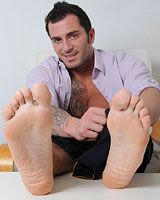 Remember when you were talking to that handsome guy that you really liked, but you couldn't tell if he liked you back, and your fear of rejection prevented you from expressing your feelings in any way apart from night after night of masturbation?
Watch his feet.
Apparently, guys aren't as conscious of their foot movements as they are of other parts of their body, and so their feet can unconsciously send messages about themselves.
Specifically, if a man moves his feet apart to adopt a more open-legged stance, it generally means that he's into you. However, if he finds you utterly repulsive, he will likely cross his legs.