... a drag Tupperware Party 8 PM tonight, July 21st. I'm told she's made herself the top Tupperware Party earner in the entire US.
Proceeds are to benefit
The SMART Ride
non-profit that raises money for Florida HIV/AIDS agencies. If you attend tonight you'll see me and my partner at the welcome table. Buy your ticket online or from me at the table. The flyer says Fort Lauderdale but it's really Wilton Manors, in a church at the corner of NE 26th St and NE 15th/16th Ave (the streets change names where they cross NE 26th).
Google Map or MapQuest: 1550 NE 26th St, Wilton Manors, FL 33305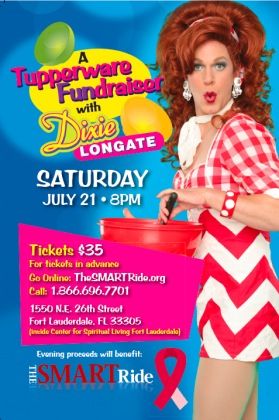 Click to buy tix:
http://thesmartride.org/
Dixie Longate's Special SMART Ride Tupperware Party



If you have not seen the hilarity as Dixie shows off the wonders of Tupperware from the classics to the modern gadgets for keeping your food fresh. She's a Southern Belle who has traveled the world selling her colorful array of bowls, salad spinners and more. Mark your calendars, tell your friends and come out for some fun! (It's definitely NOT your Mom's Tupperware Party!)