Here's my favorite mac & cheese, my grandmother's recipe. She called it "hobo macaroni" and "Depression macaroni" because it's cooked entirely in a pot, no baking. That's something homeless people living in shantytowns during the 1930s Great Depression could do over an open campfire, and these ingredients back then were inexpensive.
It's incredibly cheesy, and I only make it in one quantity, so wait until you have friends over or develop a monstrous appetite. There are just 3 ingredients, and I really believe using these same brands is the only way to get the identical taste.
10-ounce cup of uncooked Mueller's Elbow Macaroni
8-ounce stick of Kraft Cracker Barrel Extra Sharp Cheddar Cheese
1 can of Campbell's Condensed Tomato Soup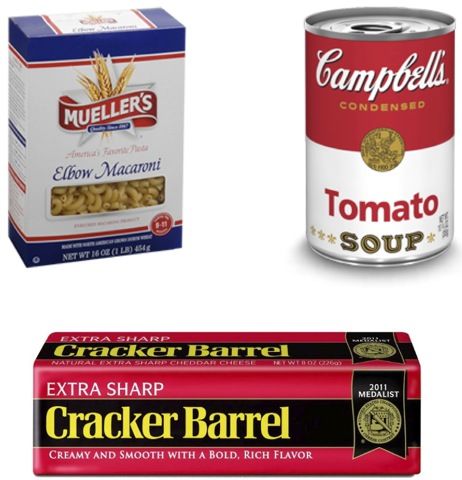 Boil the macaroni per package instructions. I usually make it 10 minutes with a little salt. I strongly recommend a non-stick pot if you have one.
Grate the cheese while waiting for the macaroni. Grating will make the cheese melt much faster in the next step. I typically use almost the entire stick, saving a little piece to eat.
Drain the cooked macaroni, rinse, drain again and return it to the burner at medium heat.
Fold in the grated cheese, stirring constantly until melted, and to prevent the macaroni from sticking.
Now blend in the condensed tomato soup to taste. Do not dilute it with water, just take it directly from the can. I may use half the can, sometimes a little more, this is your call. I save the rest for other uses later.
Serve immediately, as the cheese will begin to harden if it cools, and be difficult to reheat. Fill the empty pot in the sink with the hottest tap water, to also prevent hardening during dinner. It should be scrubbed out by hand later, even if using a dishwasher.
Hope you enjoy!