Sep 21, 2012 12:57 PM GMT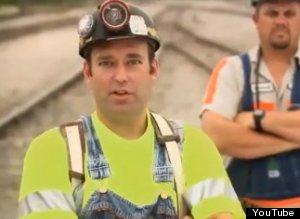 LOL!
http://www.huffingtonpost.com/2012/09/20/heath-lovell-coal-executive-andy-barr-republican-congressional-candidate_n_1899738.html
HuffPoA Kentucky Republican running for Congress is taking heat for a misleading campaign ad featuring a coal executive.

Heath Lovell appears in the ad for GOP candidate Andy Barr -- who is running agains Democratic Rep. Ben Chandler --

dressed not in a suit, but wearing a mining helmet and standing on railroad tracks.





"Obama, Ben Chandler, and the EPA are destroying us. They're putting the coal industry out of business, and it's just devastating,"

Lovell says in the ad.

"This is our way of life. It means jobs for people around here, good-paying jobs."



The political ad has one saving grace: It displays Lovell's real name at the beginning, but without any other identifying information.

Lovell actually is vice president of River View Coal, not a miner. He has donated $24,650 to political campaigns over the past two years

, almost entirely to Republicans, according to the Courier-Journal.

A miners' union and Chandler's campaign went on the attack following the ad's release. Steve Earle, a regional vice president of the United Mine Workers of America (UMWA) of Kentucky, told the Associated Press:

"For Andy Barr to pull a stunt like this, it's unconscionable. It's deceitful. It's evil. It's sinful."



Eric Nagy, Chandler's campaign manager, told The New York Times in a statement that the ad is

"shamefully deceptive" and "an insult to hard-working Kentucky coal miners who put their lives on the line every day."



Lovell defended himself in interviews.

"That was my hard hat in the video,"

he told the Times.

"That was not some costume that I've put on."

He also told the Lexington Herald-Leader,

"I still go underground and keep up my training."
mmm hmmm... keep digging!